Former men's hockey defenseman Daniel Fritz signs contract in ECHL with the Cincinnati Cyclones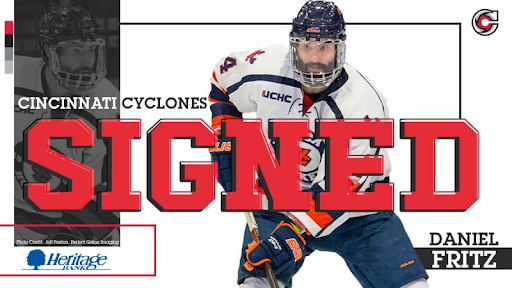 Former Utica College Pioneer Daniel Fritz has signed a professional hockey contract to play in the ECHL with the Cincinnati Cyclones.
Fritz became another name added to the list of UC men's hockey players who have continued their career into the professional hockey league. The defenseman joins Zach Borsoi, Gregg Burmaster and Roman Ammirato.
Fritz finished with a stellar season for the Pioneers accumulating 39 points. With 11 goals and 28 assists helping lead him and the team to a 15-2-1 record, a UCHC championship and the number one seed in the NCAA tournament which was canceled due to COVID-19.
This is great news for Head Coach Gary Heenan, and the school to witness former players continuing their careers at the professional level.
"We take great pride in advancing players to professional hockey," Heenan said. "It's a huge recruiting tool for us."
While Fritz has a contract with a professional team, the defenseman is aware of the new challenges that await for him during his young career.
"It is an exciting feeling to sign a contract in the ECHL," Fritz said. "However, a contract does not give me everything."
From his time here at Utica College, Heenan learned the strengths of all his players. For Fritz, there were a few things Heenan emphasized as to what makes Fritz such a great player.
"He has elite speed and skill," he said. "He also has an absolute rocket for a shot."
With Fritz now being in a professional hockey league, the game is going to be different. Practice for Fritz and the Cyclones has yet to begin, leaving Fritz with an open mind on what it may be like once they start.
"Practice has not started so mentally for me I don't really know what to expect," he said. "I am staying positive and working hard everyday so I know at the end of the day I did my best."
As the upcoming college hockey season inches closer, Heenan will have to move on without his star defenseman, but he has a tremendous amount of confidence in who they have recruited.
"We brought in a very talented class and are very excited to play hockey this season," Heenan said. "We feel confident that we can be among the nation's best once again this year."
For Fritz, he now begins his professional hockey journey but he hopes it does not end in the ECHL. He hopes it continues for as long as he can and reaches the highest possible competitive level.
"My endgame is to play at the highest level that I can," Fritz said. "I will take every opportunity presented and make the best of it."