Pioneers' winning streak snapped over weekend
Andrew Mazzatti
Staff Writer
The Utica College women's soccer team traveled to Oneonta to play in the Erinn K. Brozman Cup, hosted by Hartwick College. Coming off of two straight wins in last weekend's tournament at SUNY Poly, the Pioneers looked to continue their stellar play on Saturday and Sunday. They were unable to continue their winning streak, as they lost on Saturday, and tied on Sunday.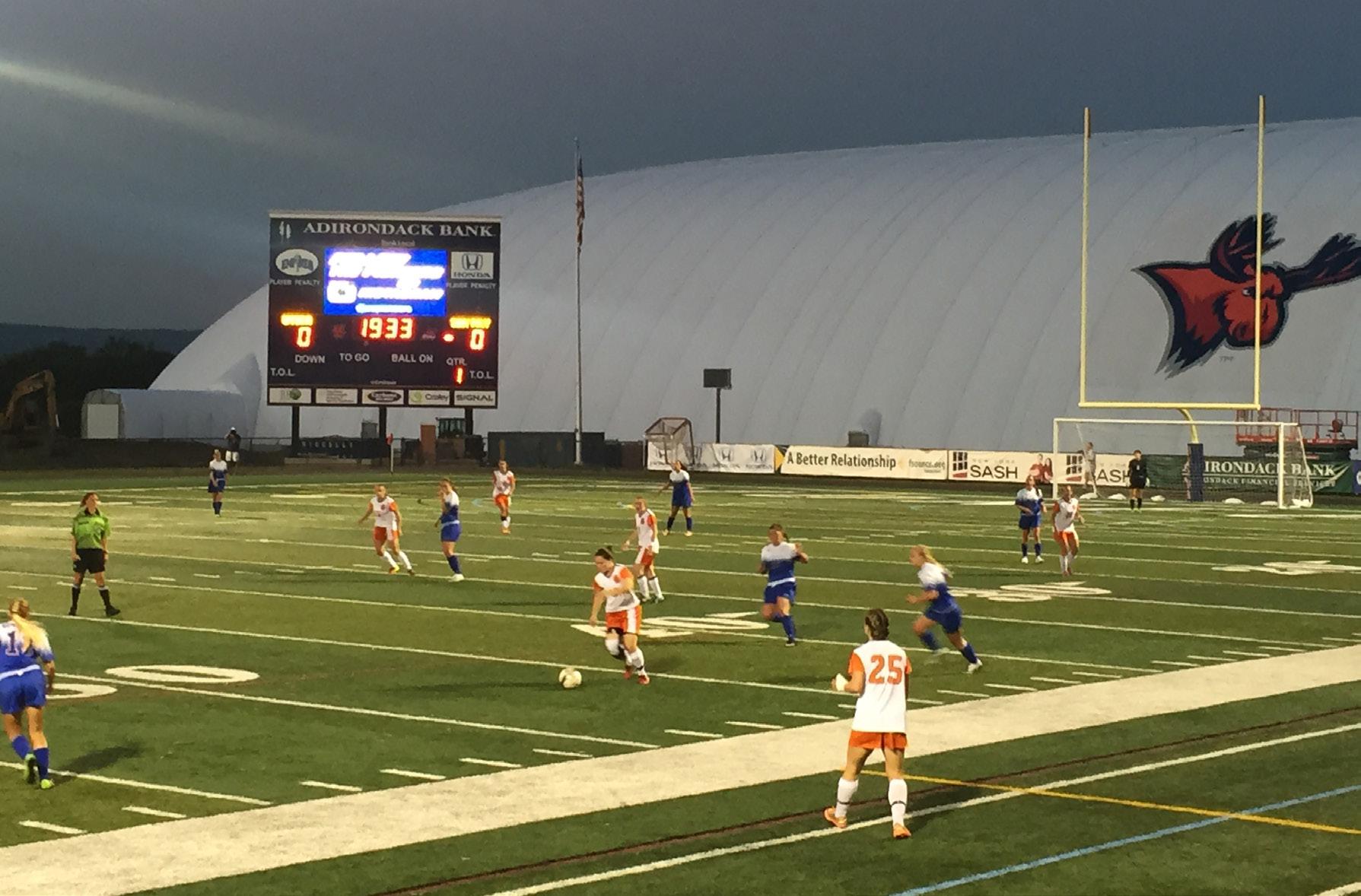 It was a tough start on Saturday as UC was geared up and ready to face Johnson and Wales University. UC gave up the first goal of the game in the first half. This was also the first goal UC gave up since their season opener. The Pioneers would get their equalizer in the 12th minute coming from sophomore Keri Berkowitz with a penalty kick.
The rest of the game seemed to get away from the Pioneers, as they allowed two more goals in the first half. The second half brought another late goal by the Wildcats, as the Pioneers would fall to non-conference opponent Johnson and Wales 4-1.
The Pioneers returned to the turf on Sunday looking to recover from a tough loss the night before. They took on Elms College and started a little slow, giving up the first two goals. The UC women would fire back however, thanks to a strike by freshman Jenna Mazza from 22 yards out cutting the lead to one.
Freshman Abby Reilly scored the equalizer in the second half, scoring off of a rebound on a corner. The game finished in regulation 2-2 ready to head into overtime to crown a victor.
The game played through 30 minutes of extra time, giving both teams several chances to go ahead, but neither team would get the goal they needed. The game ended up in a tie 2-2.
The Pioneers have had a season of ups and downs having a variety of different outcomes to games. They have, however, continued to score goals as a team.
"Having a wide variety of contributors on the team is a huge advantage for us," head coach Eileen Coyle said. "It shows that we have many talented and dangerous players."
Even though it is only a few weeks into the season, the Pioneers have been faced with a lot of adversity. They have found themselves on the end of tough losses, one of them being Saturday, but it was easy to see Sunday that this team responds to that adversity well.
"Sunday was a very telling game for our team. The resiliency from the team was truly impressive," Coyle said. "Although we had a tough loss on Saturday, to not give up, and fight back to tie the game was a very proud moment for me as a coach."
The Pioneers will hit the road again this weekend as they face SUNY Potsdam on Saturday at 5 p.m.