Milograno leaves his mark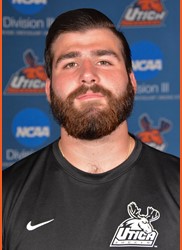 Hali Vandermeulen, Staff Writer
The Utica College men's soccer team took on Stevens Institute of Technology for the last game of the season. The Pioneers held their own keeping the score close the whole game.
The game was tied through the second half until senior goalkeeper Mathew Milograno drop-kicked a ball from his own box, and with a high first bounce, went over the opposing goalkeeper's head. The goal led the Pioneers to a 4-3 victory taking home its first empire 8 win this season.
Milograno is leaving Utica with his first career goal on senior night to go along with seven saves. He was excited the team won the game, but did not realize he had the game-winning goal when it happened.
"I kicked it and turned away because I thought to myself that it was a bad kick and my forwards would be hard pressed to do anything meaningful with it," Milograno said. " I didn't see anything other than it rolling in and just was glad to be back in the lead."
Milograno's senior season gives him pride to be a Pioneer.
"To me, being a Pioneer means to play for the guy next to you and to compete," Milograno said. "Not only every game, but from the minute you step on campus for preseason to the last whistle of the season."
Besides his first collegiate career start and goal on senior night, Milograno's favorite UC memory is beating Stevens Institute of Technology.
"I got to help the team do something that no other Utica soccer team has done and that was to beat Stevens," Milograno said. "I'll never forget the guys mobbing me at the end of the game that's for sure."
Junior Connor Nolte will miss having Milograno on the team next year.
"I'd say selfless," Nolte said. "It's his senior year and he was positive the whole time even though he he didn't play a lot."
Sophomores Thomas Muller and Randy Malek describes him as positive.
"He's always trying to pick people up even after mistakes that force him into saves," Muller said.
"He's a great guy always motivating teammates," Malek said.
Milograno's teammates were stunned after he scored from the other side of the field.
"When he punted that goal, I was in disbelief and I was so happy," Nolte said. "I believe this win means that next season will be better. We're going to take this momentum into next year and hopefully start off strong."
Muller said that he left the game in shock.
"To be honest, I can't remember. It was one of those moments of disbelief," Muller said.
  Even though he had to change his major, Milograno loved the school enough to come here with only a walk on opportunity.
He doesn't believe knowing that his college career being over will sink in until season rolls around next year.
"I'll miss just seeing the boys every day and basically everything about my routine with the team,"  Milograno said. "Not to mention road trips and home games. Just everything you can think of, I'll miss about playing for Utica College."
Even though his four years of eligibility are over, that won't stop him from playing the game he loves
"I'll never be done with soccer," Milograno said. "Indoor and beer leagues are calling my name for sure."
Muller thinks the team will be different without him next year.
"Matt is one of those guys who is easy to play with," Muller said. "He brings a sense of consistency and energy in goal that gives you the confidence to go out and try to win the match without having to think about defending too much."