Q&A with men's basketball senior Chris Green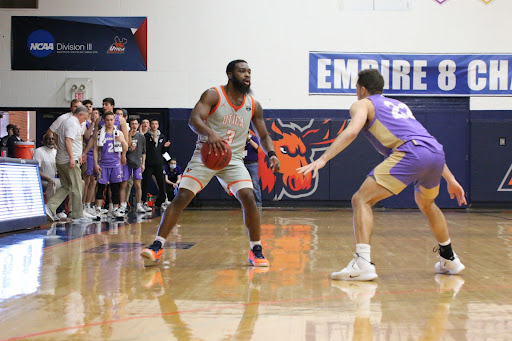 Q: After having your season canceled in 2020 and not really knowing what's next, what were your thoughts?
A: I mean, what do you do when you train super hard and put all you got into something and it gets striped away? I spent nights and nights chasing the thought of having our season and being able to hoop again. The hard part about it all was not knowing if I would be able to play this year or have to put my life on hold to finish my college career. For sometime, I was thinking what difference was it making going to the gym and working out. Like, I didn't stop doing it and actually might've worked harder, but it was tough some days to see the light. I felt as if we can try and come back to school and try to make school work and regular everyday life work. Why not let us try basketball? Nevertheless, I just stayed patient and ready and eventually, we were blessed to have a season.
Q: What were your expectations coming into the season after winning the Empire 8 Championship the season before?
A: We need another. That was the mindset in the locker room from day one. Last year's championship was cool, but we need another. We fully understood that every team wanted our heads on a stake and that each game we played would be very tough. Personally, I took the whole summer working and perfecting my craft just wanting to do bigger and better things not just for myself, but for my team. As I would talk to my teammates during the summer, it looked as if we all were on the same page and understood what our goal was. We expected to host and win the championship in our building in front of our fans, while also setting the stage for the next guys coming behind us.
Q: How did it feel to get so close to your goal of a championship and just fall a little short?
A: I've learned in life that you have to learn how to win and also how to lose, but with both of them, learn how to bounce back and get ready for what comes next. I left every last bit I had on the floor and that's just something I promised myself I would always do. We played a few good teams and in life and in sports, some days just aren't yours. We were down a key contributor and senior leader in Kobe [Lufkin], which in those games, he's shown he is made for it. It hurt to get right where we said we would be and fall short, but it set a fire under me to work even harder and be even more ready for when I step on the court again.
Q: You have another year, do you plan on using it?
A: I plan on working hard and seeing what God has in store for me next.