Men's lacrosse plays first game without Mike Parnell as Head Coach
Late into the evening of Tuesday, March 1, multiple Utica University sports teams piled into the dome to celebrate the life of former Utica men's head lacrosse coach Mike Parnell.
The SAAC representatives gathered in the lobby, handing out candles to the groups that came in one after the other. On the turf, the teams gathered alongside Parnell's fellow coaches, friends and wife, Catherine.
In Parnell's place this season is interim Head Coach Justin Patterson, who was touched by the crowd of people in the dome that night. 
"It was great to see the support from all the other coaches and athletes," Patterson said. "It really shows the impact that coach Parnell had on Utica athletics."
Graduate student captain Jack O'Shaughnessy knows this impact all too well and spoke fondly of his former coach and mentor at the vigil. O'Shaughnessy recalled all the times he stepped into Parnell's office looking for advice on his game, but leaving with fulfilling conversations about life itself. 
"That was what defined coach Parnell, he cared," O'Shaughnessy said. "His legacy is his love for the game of lacrosse that was only eclipsed by his love for the people that played it for him."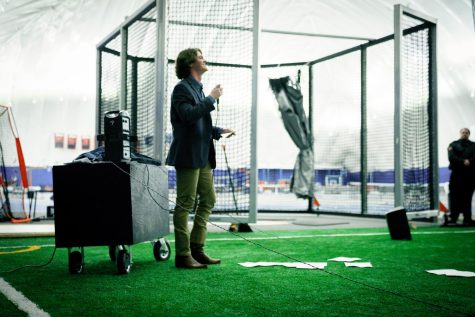 O'Shaughnessy also remembered that sometimes, Parnell wouldn't make their conversations about lacrosse at all, but rather, what was going on in his players' lives and how they were doing. 
"He knew the lessons about life that the young men learned in his program would be more important than the amount of goals they scored," O'Shaughnessy said. "He recognized that we would only be lacrosse players until we graduated, but he wanted to make us, in his own words, 'better sons, better husbands, better fathers and better men.'"
On the day preceding the vigil, the Pioneers opened their 2022 season with a home game against cross-town rival SUNY Poly. This marked the first game in sixteen years that Parnell hadn't been on the field or the sidelines representing Utica. 
O'Shaughnessy recalled what it was like in those moments leading up to the start of the game. 
"At a campus he loved, I stepped onto a field that he cherished to play a sport that was his passion with the young men that he loved even more than the game," he said.
Parnell passed away on Dec. 2, 2021 at the age of 45, and Patterson quickly stepped in as the head coach for the men's lacrosse team. The season opener against SUNY Poly was Patterson's head coaching debut. 
"It was definitely a sad feeling not having him there on the sidelines with me. Not being able to talk to him before and during the game on what we need to do," Patterson said. "I told the guys before we went out that we got a great person watching over us and he wants nothing more than to see us go out and win so let's make him proud, and they responded with a big win."
Still feeling his presence as Patterson said, the men came out with a dominating 8-4 win over SUNY Poly, marking the 13th win against SUNY Poly in 14 all-time matchups.
With many games coming over the spring break to prepare the team for Empire 8 Conference games, Patterson knows that there's much to do, but has confidence in the strength of the men by his side. 
"I hope our guys continue to improve each and every day," Patterson said. "We have some stuff to work on, myself included, and we're going to go out every game and give it our all."
Fighting adversity like this was one of Parnell's most frequent topics of conversation. His players are well-versed in how to continue to compete when life gets tough. 
"Coach had a saying," O'Shaughnessy recalled. "'Make this the best two hours of your day'- in reference to our practices- in the face of whatever adversity lies ahead, lacrosse was his and is our sanctuary to escape to. Outside stress falls away when the only thing you have to think about is making the next play."
Senior Josh Bennett fondly remembers his coach in the same light. 
"It's how upbeat he was, all the time," Bennett said. "He always had a smile on his face saying that the best two hours of his day was him hanging out with us and it didn't matter if it was raining, snowing, or the sun was shining down- it was the best two hours of all of our days."
On game days, Parnell was always heard shouting "It's a great day to be a Pioneer," and with his legacy standing strong, young Pioneers to come will continue to hear those words and feel his presence forever. 
"His influence transcended that of a coach because of his care for those he coached," O'Shaughnessy said. May we all carry the same passion, vigor for life, and kindness that he did as we embark from here."
Utica athletics plan to host a coach Mike Parnell day, where his #6 jersey will be retired. No date has been confirmed as of yet, but the team would like to see the support from the entire Utica community during that game, for the man that simply was, Utica lacrosse.