UC men's hockey skates by Potsdam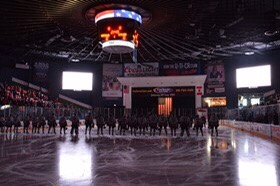 Christian Rodriguez, Staff Writer
The Pioneers defeated the Bears of SUNY Potsdam by a score of 5-3 in a Saturday night showdown.
Despite a three-goal second period by the Bears, the Pioneers went on a run of their own, answering back with three goals in the third period to seal the deal.
Sophomore Justin Derlago led Utica with two goals. Juniors Roman Ammirato, Vince Stefan and Kevin Valenti each added a goal of there own in the victory.
The Pioneers are on the road next week as  they take on the Neumann University on Friday night, with a 7 p.m. start time.