A look forward and a look back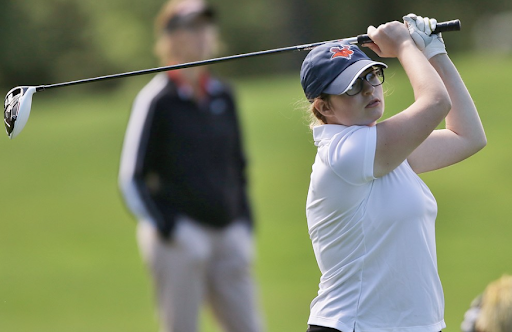 Alyssa Raga, Staff Writer
College is a time for new beginnings, as well as a time for sad but happy endings. This can be true for student-athletes who spend a lot of their time in college on campus with their teammates and with their coaches. It is an exciting thing to join but a hard thing to leave.
Senior Miranda Cuda will say goodbye to Utica College soon. She will also bid farewell to her time on the golf team. Cuda said she has thoroughly enjoyed her time on the team.
"My favorite part of playing golf at Utica College are the resources that have been available to me," Cuda said. "The coaches are always willing to help and try and make you a better athlete and person. Along with that, the Yahnundasis is an incredible facility and course to be able to play."
Cuda said she has made memories that will last a lifetime while playing golf at UC.
"My favorite memory from playing golf at Utica is when I shot my personal best during the fall season of my senior year," she said. "I came a long way from being a freshman that accidentally hit a Nazareth player in the neck with my shot to being able to play my personal best."
Cuda, a sports management major, said attending UC has brought her a lot of happiness over the years. She has been able to meet and become extremely close with people in her major, with some of them even becoming her closest friends.
With so many memories and friendships made over the years, Cuda said she has a lot she is going to miss about UC.
"I'm going to miss all of the people I've met along the way," Cuda said. "From coaches and teammates to friends and professors. UC has introduced me to so many different people."
Cuda also provided some advice to future student-athletes.
"Enjoy every second of it because when they say it goes by fast, it goes by even faster than that," she said.
While Cuda's time at UC is quickly coming to an end, Shannon Jedreicich's time is just getting started.
Jedreicich is a first-year wellness and adventure education major on UC's field hockey team and has loved playing for the team thus far.
"My favorite part of playing field hockey at UC has been the experience," Jedericich said. "I am so close with my teammates and they are always there for me when I need help on and off the field."
Jedericich's love for field hockey has lasted many years.
"I started playing field hockey in seventh grade," Jedericich said. "I went into middle school knowing I wanted to play a sport and field hockey just stood out to me. It wasn't until tenth grade when I realized that I wanted to play in college."
Jedericich said she has already created fond memories during her first season at UC, including going to the Empire 8 championship.
"Although we did not win, we came in third and it was an amazing experience that I was able to share with the people that mean the most to me."
Jedericich said she is quickly learning that being a student-athlete can be a challenge.
"The hardest part about being a student-athlete would have to be time management," Jedericich said. "I consider myself to have better time management during the season rather than the off-season."
Jedericich has a lot of ambition for her future on the field hockey team and said she believes the best is yet to come during her time at UC.
"In the future in regards to field hockey, I would like to accomplish winning an Empire 8 championship with my team because I know that as a team, we all work so hard to get where we are and to just have the win would make all our hard work worth it."