Pioneers place 16 on top of podium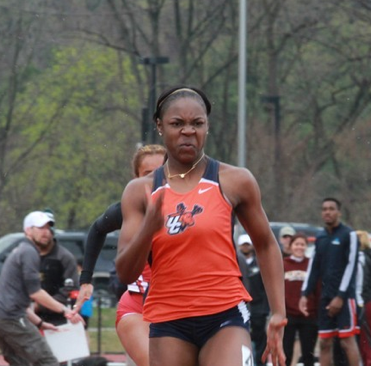 Jim McLaughlin, Sports Editor 
The Utica College men and women's track and field team put together great performances combining for 16 first place finishes at the Alvernia Crusader Invitational at Schlager Memorial Field.
Freshman Jordan Smith led the men's team as he won the javelin competition and shattered the school-record as he completed a throw of 56.00 meters. His toss ranked him 22nd nationally on the NCAA Division III National Outdoor qualifying list. Smith was also named the Empire 8 Conference Field Athlete of the Week.
Junior Andrew Russell and freshman Keanu Heedram took first and second in the men's discuss competition. Russell recorded a toss of 44.50 meters, which currently ranks him 22nd on the NCAA Division III National Outdoor qualifying list. Behind Russell is Heedram, who sits 23rd nationally in discuss and he placed first in shot put with a throw of 14.22 meters.
In the field, Nicodemus Gambill won his first competition in his first outdoor meet of the season winning the 100-meter dash with a time of 11.05. He also was on top of the podium winning the 200-meter dash with a 22.29 time. Gambill ranks in the top 50 nationally in the 100 and 200-meter dash.
Shane Ruffing picked up where he left off last weekend and won the 110-meter hurdlers with a 15.75 time. Ruffing won the Empire 8 Conference Track Athlete of the Week after last week's performance.
Senior All-American Sarah Wiatr displayed her talent in the triple jump and long jump competitions last Saturday. She won both events, and currently ranks No. 1 nationally on the Division III Outdoor qualifying list. Wiatr was named the Empire 8 Conference Field Athlete of the Week after her performance last weekend.
Freshmen Molly Ferguson and Elizabeth Swasey led the way in field competition for the Pioneers. Ferguson won the discus competition with a throw of 36.16 meters. Swasey won the pole vault competition with a clearance of 2.97 meters.
Fellow freshmen, Kaitlyn Stinson and Kaityln Phillips came in first place for their first collegiate victories. Stinson won the 400-meter hurdles with a time of 1:14.43 and Phillips won the 5000-meter run with a time of 19:57.08.
The Pioneers will head to Moravian College for a two-day competition on Friday and Saturday. The start time has yet to be announced.
Featured image; Anaelle Amy was a member of the first place 4X100 meter relay team. The squad finished with a season-best time of 51.66. Photo by ucpioneers.com.