UC softball splits doubleheader with Hamilton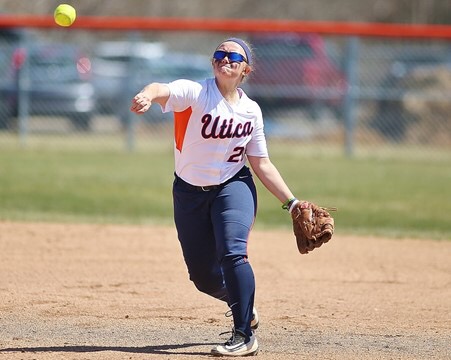 Morgan Golliver, Staff Writer

(Photo: ucpioneers.com)
After being postponed last week, the Utica College softball team hosted the Hamilton College Continentals in a non-conference matchup. 
In the first game of the doubleheader, the Pioneers defeated the Continentals 9-1 in 6 innings.
Junior pitcher Brittany Meka pitched the complete game, giving up four hits, one run and three strikeouts to pick up her sixth win of the season.
Second basemen Nicole Rice went 3-for-3 with two doubles and a sac-fly.
Right fielder Hayley Fredericks went 2-for-3 with a two-run single.
Left fielder Dominique Soto hit her first home run of the season in the win.
In game two, the Continentals turned things around and defeated the Pioneers 10-2 in five innings.
Designated hitter Kassidy Ogren's groundout RBI and first basemen Sabrina Stransky's Sac-fly provided Utica with its two runs.
Sophomore Shannon Cool was the starting pitcher who took the loss as she gave up eight hits and five runs.
Looking ahead, the Pioneers will travel to the University of Rochester Wednesday afternoon to begin their three game road trip before coming home to face Stevens on April 22.