Miceli makes history
Andrew Mazzatti
Staff Writer
On Monday night, the record books for the Utica College women's basketball team added one more name as Mary Miceli broke into the 1,000-point club, but lost to Hamilton College 67-65.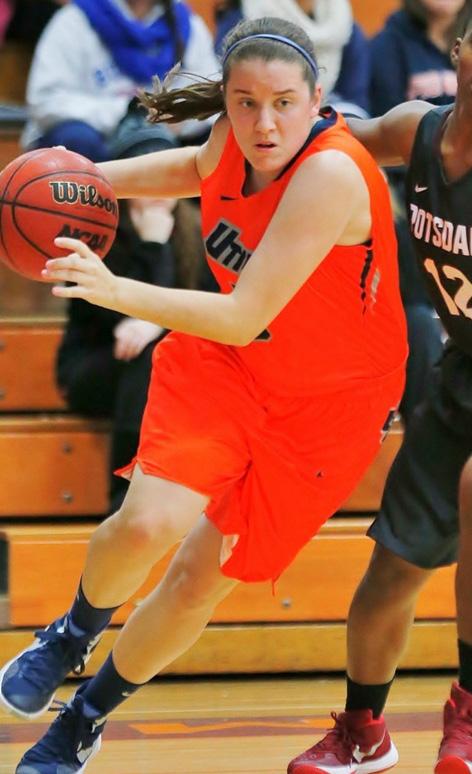 The senior guard would put together a 28-point performance en route to etching her name into the Utica College women's basketball history books. She is one of only eleven other players to reach the milestone in program history.
Although the Pioneers lost the game against Hamilton, Miceli is honored to be a part of such an elite group of athletes.
"It's an honor to now be a part of the 1,000-point club with those ten other incredible players," Miceli said. "I've had the pleasure of playing with and meeting some of them and joining them on this achievement is such an honor."
Miceli has been leading the team this season by averaging 17 points per game, so it was only a matter of time before she set the record. Throughout her 28 point night, Miceli kept herself in check by not focusing on where she was in relation to the points needed to break the record. Instead the reality of the situation would come from a teammate.
"I had a feeling I was creeping up on it but I didn't know how close I was until one of my teammates told me I was one point away," she said. "I tried not to think about it and just continued playing like normal. I had an opening for a three-pointer and let it go."
The first half of the game at Hamilton was a tightly contested affair with UC being down by six at the half. The third quarter is when the action picked up and the Pioneers made five three-pointers and outscored Hamilton by eleven in the quarter. UC had a 54-49 lead heading into the fourth.
The fourth quarter was another back-and-forth fight like it was in the first three quarters. However, the Continentals put together a 15-5 run to secure victory over the Pioneers. With a chance to win late in the game, the Pioneers relinquished its first opportunity to tie or go ahead with an offensive foul. The Pioneers had an opportunity to tie up the game or win the game in the last final seconds. The basketball was put into the hands of Miceli, but unfortunately she missed the shot to allow Hamilton to take the contest 67-65.
The Utica College women's basketball team will continue its 2-3 campaign on Saturday as they will host Bard College on Saturday at 2 p.m. Before the start of the game, the Pioneers will have its annual women's basketball alumni game, which will be at 11 a.m.