UC swimmers fall in final home meet
Nick Woodman, Staff Writer
The Utica College swim team returned home this past Saturday as they went up against the Clarkson Golden Knights for the last regular season meet of the season. The Pioneers battled to end the season on a winning note for both the men's and women's teams but were unable to pull out the win. The men lost 165-108 setting their season record at 6-7 and the women's team lost 157-106, as they fell to 3-11.
The men were led by senior Raphael Warnon, who placed first in two of his events, the 100-yard backstroke which he swam in 56.09 and then in the 200-yard backstroke with a time of 2:02.49.
Warnon considered it to be a great Senior Day.
"This past weekend for me was perfect," he said. "Everything finally came together between fast swimming, great cheering and just an awesome atmosphere. To me I couldn't have asked for a better senior meet."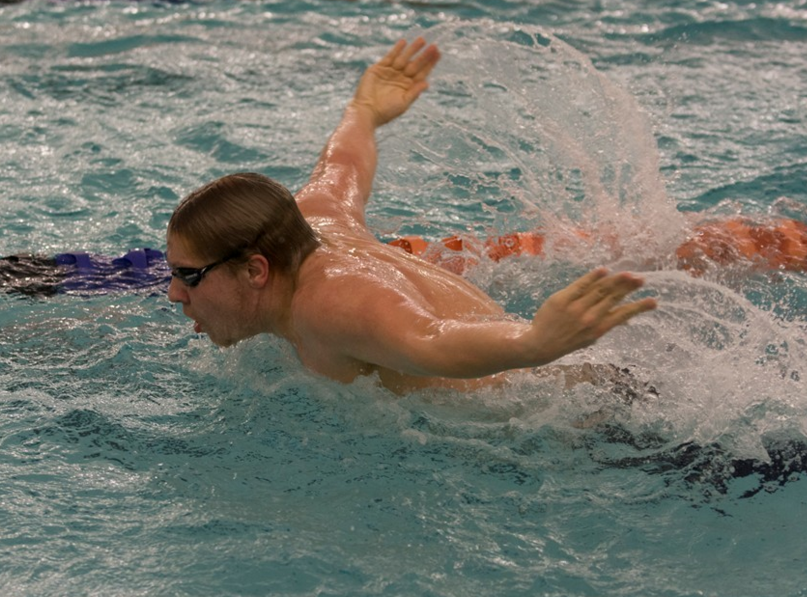 Another Pioneer who made an impact this past weekend was freshman Tim Tellekamp, who placed first in the 100-yard freestyle with a time of 49.60. Junior Chris Halsey and sophomore Aaron Gudrian placed first in their races as well.
On the women's side for the Pioneers, they were led by sophomore Grace Gallentine, who placed first in all three of her races. She won the 200-yard, 100-yard and the 50-yard freestyle races. Her times were 2:08.58, 58.55, 26.52, respectively.
Senior Jessica Schumann swam at the UC pool for the final time in her career.
"Saturday was very bittersweet," she said. "It was awesome to see everyone who has supported me up in the stands for one last time. On the other hand it was sad to think that four years as a Pioneer has come to an end."
The Pioneers will swim at the UNYSCSA/Empire 8 Conference championships next week.
"Swimming in college has been one of the hardest yet most rewarding times of my life," Warnon said. "It's shown me that if you put time, energy, and passion into something, the result will be more rewarding than words can describe."