One-on-One with Utica College men's hockey leading point-getter Brett Everson
The Utica College Pioneers men's hockey team throughout the first three games is sitting at 2-1 after a weekend 3-0 victory against the Chatham Cougars.
Brett Everson, the leading point-getter for the squad up to this point, was able to pot his first power-play goal over the weekend and push his season tally up to six points. The Tangerine spoke with Everson after the weekend game to talk about the season up to this point and looked ahead to some upcoming games.
Q: What did you like about your team in the 3-0 win against Chatham?
A: I think we played a really nice team game. We did really well defensively and did not give them very much throughout the game. We had a ton more scoring chances than they did and I think the only thing we could have done better was put some more pucks in the net.
Q: For yourself, you have a team-leading six points and came away with a powerplay goal in Saturday's game. What are you liking about your own game throughout the first three games?
A: I spent most of my time that we have not been practicing just working on my own game. We had a couple of guys stay here over Christmas break and we all used the time to sharpen our games at the AUD. All of that has really helped me during this shortened season become more confident with the puck to make better plays.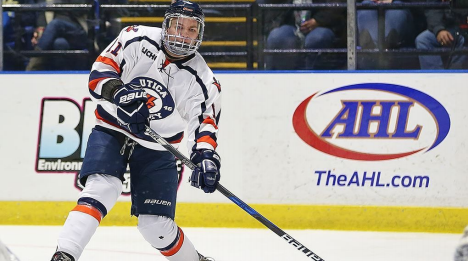 Q: Looking at the powerplay, it has only been three games but, as a team, you guys are 2/13. What are you seeing in the powerplay unit that you like or that you think you guys need to work on?
A: I think we all just need to get more reps in. With the shortened season it has been tough since we have not had a crazy amount of practices together. We also lost a big contributor in our powerplay from last year, Daniel Fritz, and that definitely is playing a big role early. I think with more practice we will be able to turn it around and find ways to get more pucks on the net.
Q: Looking back at the Wilkes games, the team took your first loss in regulation in over a calendar year. What is the feeling like after losing in regulation after winning a school-record 20 straight games dating back to the start of the 2019-20 season?
A: It was a really tough feeling on that bus ride home, it really sucked. We have not felt that in a really long time. I think looking at the game the big thing was the penalties. We lost our cool and took too many dumb penalties. I think against Wilkes we have to be more disciplined because we know those guys play a little dirty and get a little mouthy so we have to know what we are getting into with them and be prepared. They are a very talented team and well-coached so we need to always be ready to play them.
Q: You guys lost some pretty important pieces from your team last year with names like Fritz, Jarrod Fitzpatrick and Gianluca Baggetta. What was the feeling like at first having to adjust as a team without their presence?
A: Well with our team we know that Gary Heenan does a great job recruiting so we know that when we lose great players like we did last year, he is going to bring in some great younger players. With this group, the mentality is next man up. Everyone in our lineup is capable of playing a first-line role with any other team, but we all come here because it is a great culture and atmosphere.
Q: When old faces leave it leaves the door open for new faces to enter. With that said, first-year players such as Jayson Dobay, Blake Holmes and Dylan McMahon have entered the scene. What have you seen from them so far in their first games on the team?
A: All of those guys have been in great programs and so far have been able to contribute to the team with a couple of points. It is a total team effort and having them contribute is always a positive.
Q: Looking ahead, you guys are scheduled to face Elmira in a back-to-back this upcoming weekend. How do you prepare for this team?
A: From what I know, they have lost a lot of their key seniors from last year, but we know that Elmira is an outstanding program that is really well-coached. They are physical and get in on forechecks and always find a way to get shots on the net. It is usually the same story with Elmira every year, it ends up being one of our toughest games in the year.
Q: How has it been playing inside of an empty AUD so far? 
A: To be brutally honest with you, it sucks compared to having the fans there. We love our fans, and they are the best fans in college hockey. It really does suck not being able to have them there, and it feels weird hearing the AUD so quiet. 
As noted throughout the interview, Everson and the Pioneers are getting prepared for a matchup against Elmira this weekend. To watch the home game, be sure to tune into ucpioneers.com where it will be live-streamed for all to see.