Q&A with former Utica Pioneer and pro football player Nicodemus Gambill
After graduating from Utica College in May 2018 with his B.S. in Corporate Wellness, Nicodemus Gambill, the former Pioneer running back and track and field star, has been making the most of his opportunities.
The 26-year-old Gambill currently lives in San Diego, California, after moving there last December, but that doesn't mean he forgot where he came from.
Q. Now that you're living in San Diego, what do you miss most about both Utica and Rochester?
A. What I miss most about the Utica area is the different food places and my friends there. I used to go to Venice Pizzeria every Friday night to get Chicken Parm before my football games or my track meets. I also miss my friends in the Utica area and I'm glad they're doing big things. In Rochester, I miss my family because being out in San Diego is a long way from home now that I'm living on the west coast.
Q. Which awards or accomplishments mean the most to you and why?
A. There are two accomplishments that really mean a lot to me. The first thing for me is graduating from college as a first-generation college student. That not only means a lot for me, but it is big for my family as well. My other biggest accomplishment is when the track and field team won back-to-back Empire 8 championships in 2016 and 2017. Getting the first one in school history, then winning outdoor the same year was a very great accomplishment for me.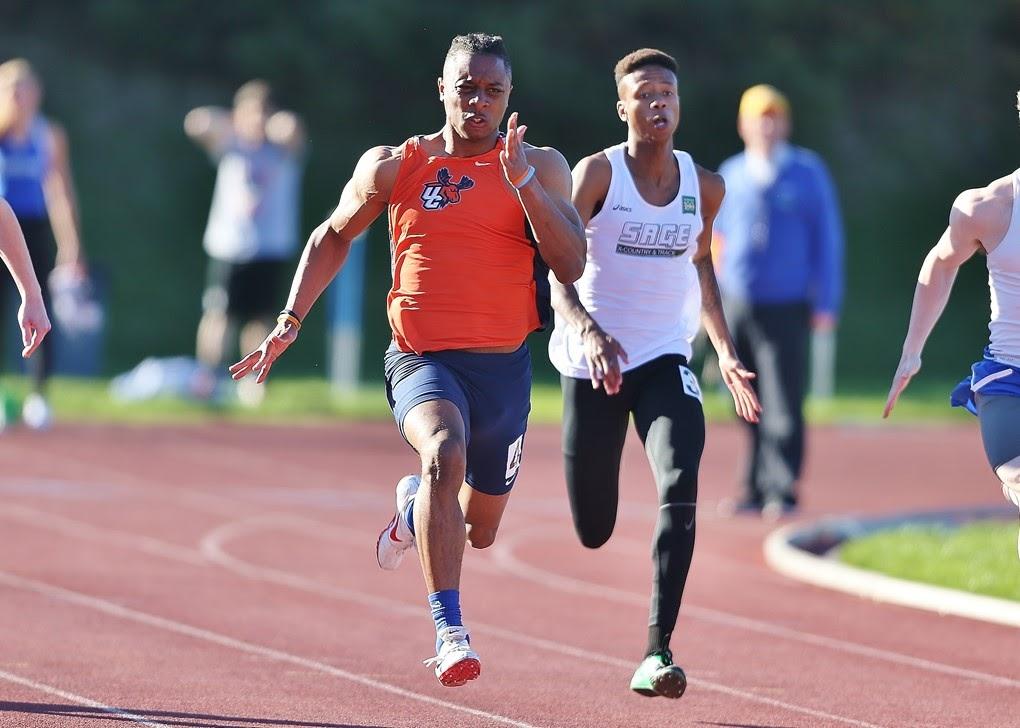 Although Gambill's athletic career was a tremendous success at Utica College, he recognizes that being a first-generation college student meant just as much to him as winning any athletic award.
Now that Gambill has graduated from Utica College, he has been keeping himself busy doing a variety of things. One of those things is continuing his football career.
Q. Since you graduated from Utica College in May 2018, what have you been up to these days?
A. I have been doing a lot since I graduated back in 2018. In 2019, I signed a contract to play American Football in Germany with the Erding Bulls. Being in Germany was a great experience for me getting to learn a whole new culture and I've been treated very well over there. I also went through the rookie camp for the U.S.A. Bobsled team and I did really well, but I chose not to proceed with bobsledding because I was battling some injuries.
Now that the COVID-19 pandemic has swept through the world, it has put a halt on many of our lives. For Gambill, it has impacted his athletic careers in both football and bobsled.
Q. After UC you said you have played football in Germany with the Erding Bulls and you are also a U.S.A. Bobsled athlete. Can you describe how things are going with your football and bobsled careers?
A. As of right now in Germany, everything is on a standstill because of the COVID situation so all the football leagues are canceled but I am still training. I had a great season and they really want me back with the team, but as I said, due to COVID, everything is canceled for now. With bobsled, because of the injuries I took a step back from it for now, but I do like the idea of it as a career.
Bobsledding for team U.S.A. would be a great career for Gambill, and he thanks his athletic ability for allowing him to have such goals.
Q. Do you think your athletic experience with track and field and football at UC helped shape you into the super-athlete you are today? Also, how did bobsledding come about for you?
A. Being a two-sport athlete in both track and field and football definitely worked hand in hand for me. The bobsled opportunity came about for me when someone saw me run at a track meet. That person reached out to coach Eric Parker and he told me to go to a combine out in Lake Placid. I went out to the combine in Lake Placid in 2017 and I had the number one overall score. After that, I got invited back to the rookie camp and I did very well. It was a fun experience for me.
Q. How have you made the most out of the opportunities you've been given, especially from a former Division III athlete's perspective?
A. For me, it doesn't matter if you go Division I, Division II or Division III, it's all about hard work and determination. If you work hard and stay determined, you can become great and people will notice it and you will get calls. For me, I was playing football in Germany against former Division I athletes but what set me aside from them was my hard work.
With hard work and determination, Gambill landed a contract with Germany's Erding Bulls back in 2019. Gambill finished the season strong and helped lead the first-place Bulls to the semi-finals, just one year after being a bottom-tier team.
Q. What would you say has been your favorite moment playing American football in Germany so far?
A. I think the culture and learning a new language has definitely been one of my favorite moments. Trying the new foods, exploring all over Europe, and being in places I never thought I'd be was great. When it comes to football, playing the game I love and having a great rookie season while rushing for over 2,000 yards while helping a team that was picked to finish last finish first was huge for me. We came up short in the semifinals but we only lost one game the whole year, so it was a blessing for me.
While balancing his time with his athletic career, Gambill also runs an athletic brand named Gambill Athletics.
Q. Could you describe your brand Gambill Athletics, and how it started? Where did you get this idea to start your own brand?
A. Gambill Athletics actually started off kind of as a joke between me and my girlfriend and it eventually came to life. We would always go workout together and she would post about it and people liked the idea of it so we came out with shirts with the quote "you cannot make progress with excuses" on them. I did an internship for Absolute Performance in Buffalo and Tom Corradino, who is the director of performance there, taught me so much and he was a blessing in my life. I say this because at the internship I would have people come up to me and say "Nico, I wanna be great," and I would tell them that they "cannot make progress with excuses." Corradino and Absolute Performance really helped me learn so much that I wanted to branch out and start my own fitness brand, so I did.
Gambill said that the "you cannot make progress with excuses" quote is one that he lives by because he believes that everyone wants to be great, but if you make excuses, you won't make progress towards that goal of being great. He said he gets this quote from NFL Quarterback Cam Newton.
Q. Is there anything you'd like to say to the people back here in the UC Community?
A. I just want to say thank you to the coaching staff and to everybody who played a role in helping me be where I am today. I miss everybody. I'm still grinding and doing well. I'm following how the football and track and field teams are doing. I'm still reaching out and talking to players on the teams because I want to be a mentor and someone that people can look up to. As a Division III school, we get overlooked and I want people to know that if I can do it and make it to the next level, you guys can do great things too because I was just in your shoes not too long ago. Look at everything like a marathon because life isn't a sprint, it's more of a marathon. Be motivated and work hard at everything you do in life and you will go somewhere.
During his time at Utica College, Gambill received many awards and accomplished many different things. According to ucpioneers.com, Gambill's accomplishments include:
Four-time NCAA Division III All-American
Eight-time National Qualifier in track and field
12-time Empire 8 Conference Champion
Seven-time New York State Collegiate Track Conference (NYSCTC) Champion
Four-time ECAC Division III Champion
Helping guide Utica to two consecutive Empire 8 Conference Outdoor Track & Field team championships
D3football.com All-East Region Third Team selection as a kick returner in 2016
2016 Empire 8 All-Conference Second Team pick
Single-season school-record holder with 711 kick return yards in 2016
School-record holder with a 99-yard kickoff return for a touchdown in 2016
Recipient of the 2017 Dick Miller Award for UC athletics