Player Profile: Sarah Wiatr
Jacqui White, Staff Writer
Ever since senior Sarah Wiatr began competing in the triple jump, she was instantly hooked and knew she wanted to continue her career past high school.
Wiatr began participating in track back in seventh grade when her school only offered two spring sports. She was able to test up in middle school so she could compete at the varsity level. However, eighth grade is when she decided to try triple jump for the first time. That same year Wiatr ended up breaking her high school's record in the event.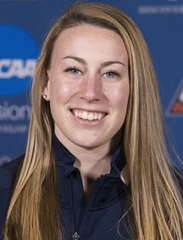 After she graduated from West Canada Valley High School in Poland, New York in 2012, she knew she wanted to continue to do track in college. She didn't live too far away from UC, so she thought it would be a good fit for.
"I choose Utica because it was close to my hometown Poland and I was interested in the occupational therapy program as well," she said.
Her coaches have clearly taken notice to her hard work over the years as head coach Eric Parker has seen her transformation since her freshman year.
"She has not only grown as a competitor but as a person. I don't think those two things are mutually exclusive," Parker said. "As she has grown as a person, she has learned how to take a competition one jump at a time, block out anything else that might be going on and get the job done. We're also seeing her huge dedication during the summers in the weight room paying off on the track currently."
Throughout her four years as a Pioneer, Wiatr has been able to accomplish so much in the blue and orange. She has represented Utica at the NCAA championship meet four times, which was truly an honor for her. After a great season, she was able to qualify for the finals in the triple jump. This meant that she only needed to out-jump one person in order to medal and become an All-American. Not only did she out-jump one person like she needed to, she managed to out-jump two people on her last attempt. She finished the competition placing seventh overall nationally.
"It felt great to be the first Utica College female track athlete to earn such accolades," she said. "It also meant a lot to me when my entire family was there to witness the event which pretty great as well."
Wiatr has continued to break records as she broke the facility and meet record at the Brockport Invitational in the triple jump with a jump of 11.84 meters.
Fellow teammate junior Nicodemus Gambill has noticed her hard work and even though they both compete in different events, he sees that it pays off.
"She is a very humble about what she does," Gambill said. "She works hard and it shows."
After she graduates, she plans on continuing to study occupational therapy and she would like to coach track and field sometime in the future.