Men's hockey glides through postseason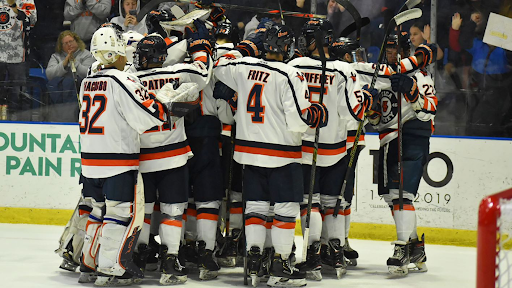 Alyssa McKenna, Staff Writer
The Utica College men's hockey finished with an overall record of 23-2-2 and a conference record of 15-2-1, with a total of 31 goals scored to lead the conference.
"Coach Heenan and the team's expectations were high heading into the season since then we have had more confidence and success," first-year goalia Joe Giacobbo said.
The team started the season with a tie against SUNY Canton, followed by three wins, a tie and then their first loss on Nov. 23. After their second loss against Stevenson University on Dec. 6, the team heated up. Utica went on an 18-game winning streak to finish the season.
"We started off the season a little slow," freshman Buster Larsson said. "I think for us we were trying to figure out what our strengths and weaknesses were. Once we figured that out we were able to play more consistently and string some games together."
The team heads into the championship game on March 6 and 7 against Wilkes University. Going into the championship game they are ranked first in their respective conference and third in the country. The last time the hockey team was ranked No. 3 was during the 2013-2014 season.
"Heading into the postseason we are trying to keep a clear mind and just continue to do what we have been doing," junior Brandon Young said. There's no reason to change the way we have been playing because it's working."
The team is looking ahead even further than championship weekend against Wilkes. The big goal for the men's team this season is set on the NCAA Division III tournament.
"We would like nothing more than to cap this amazing season off with something this school has never done, [wining] a national championship," Young said. 
The team as a whole was a key component to the success of this season. However, there are some stand out players. Freshman forward Brandon Osmundson leads the team in stats, with 27 games played, 12 goals, 28 assists and 40 points scored total.
Conor Landrigan, Daniel Fritz and Kasper Kjellkvist also add to the high statistics of
the team this season. Landrigan, a left wing, had the second-highest recorded stats. He had 20 games played, 12 goals, 26 assists and 38 points scored total.
Fritz, left defense, has 27 games played, 11 goals, 27 assists, and 38 points scored total. Kjellkvist finished with 27 games played, 15 goals, 15 assists, for a total of 30 points.
The Pioneers recently downed Nazareth College 3-2 in game two of the UCHC Semifinals to advance to next weekend's championship.
This season, UC has won every game against Wilkes University, with an 8-3 win on Jan. 17 and a 5-1 win on Feb. 22.