Jhonny Theze in on the ECAC's radar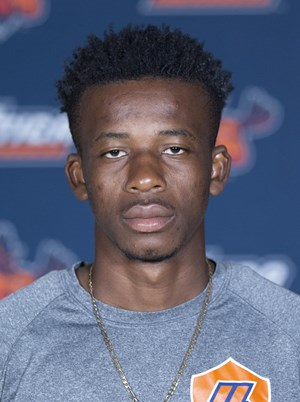 Alyssa Raga, Staff Writer
First-year player Jhonny Theze earned an Eastern College Athletic Conference honor, after being named to the conference's second team for men's soccer. Theze is the first freshman from UC to earn the recognition.
 Theze said he was very grateful to be recognized and proud of his honor.
 "It means a lot," Theze said. "I worked hard, tried my best and stayed positive."
Without the help of his teammates, Theze said that he could not have achieved this honor.
Theze's success in his first season also comes from the way he prepares for a game by going to bed early and resting, going to the gym and staying focused on the game. 
Before moving to the United States, Theze grew up in Haiti, where, according to Theze, soccer is very popular.  Soccer has always been a part of Theze's life, as Theze's father played soccer in Haiti. Theze started playing at the age of six and has not looked back since then.
Theze said that the simple joy of playing and the comradery with his teammates are his favorite parts about playing soccer overall.
 "I also like that I bring some diversity to the team," he said.
 For Theze, his successful first season and this ECAC honor is just the beginning.
 "I simply want to continue to win in the future," Theze said.
Theze lead the Pioneers in every offensive category and finished his first collegiate season with 19 points on seven goals and five assists.
Head coach Brian Marcantonio said he knows just how much work Theze put in to achieve this honor.
 "He has a natural ability and is wildly talented," Marcantonio said. "He doesn't get phased by the pace of the game."
 All of the work that Theze has put in this season which lead to the honors only speaks to a small part of his potential in the future, according to Marcantonio.
"If he keeps his same mentality and habits, then his potential is unlimited," he said.   
Marcantonio also added that Theze's chances and potential in the future are really high, and that he was one of the best players on the team this year.
While the Pioneers have a team-first mentality and care a lot about group accomplishments, they said they are still excited when a member of the team is recognized individually.
"I was happy for him," Marcantonio said. "It really speaks to his talent. What made it even more special was that he was one of only three freshmen to receive the honor." 
UC finished the season with one of their best records yet. The Pioneers finished with an overall record of 10-6. The team is looking forward to improving next season, with the help of Theze.