Matt Rogers
Co-Editor-in-Cheif
The Utica College men's soccer team came into Saturday's game against conference foe Nazareth in an offensive drought, having been held scoreless in its last two games, shutout losses to Ithaca College and Hamilton College.
Saturday, however, was a much different story.
Led by senior forward Shane Ruffing, who scored two goals and became the college's all-time leading scorer in the process, the Pioneers scored early and often en route to a 6-0 win.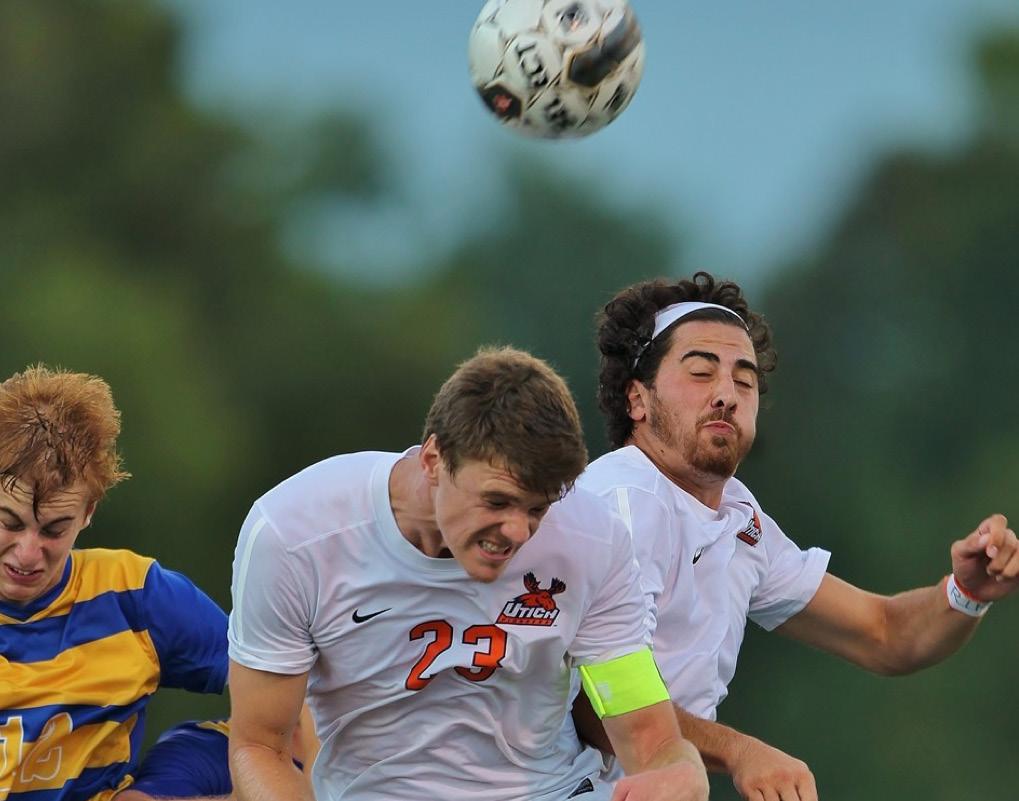 "It was a collective effort," Jordan Senay, who scored his first goal of the season, said. "We have been struggling to find the back of the net the past couple of games and to put six on the board and keep a clean sheet is a huge confidence boost for the guys."
Ruffing found Marcel Dupuis, who scored the first goal for UC, just 6:29 into the game. Less than five minutes later, Owen Gillam found the back of the net on a penalty kick, and just like that, the Pioneers had a 2-0 lead.
But it was not until the 28:30 mark that UC history was made.
Sophomore Bita Gazashvili gave Ruffing a beautiful through ball, and Ruffing took care of the rest. The goal was the 27th of his career, and his fourth of the season.
"Scoring that goal mainly just gave me a sense of relief," he said. "The record was something that just loomed over me for the first half of this season."
It also gave the Pioneers a 3-0 lead going into intermission. With all the momentum on their side, UC started the second half just as strong, needing just over a minute to find the back of the net. Ruffing worked his magic once again, as he found Senay, who put home the goal.
Just seven minutes later, the two switched roles. Directly off a corner kick from Senay, Ruffing shot one past Nazareth goalie Alex McLean. It gave the Pioneers a 5-0 lead, and that effectively ended any chance the Golden Flyers had of clawing themselves back into the game.
With each impressive outing, Ruffing continues to impress head coach Brian Marcantonio more and more.
"The last two years, he's come into his own on the field and the results have been more consistent," he said. "He's an unselfish player and that allows him to find space and opportunities on the field. As he's matured, he's been more composed in front of net and it's allowed him to reach this milestone."
The scoring ended in the 65th minute, as sophomore Gustaf Petersen scored his first goal of the season.
The Pioneers outshot Nazareth 19 to 11, and senior goalie Nick Hallett made six saves. Marcantonio was extremely pleased with the overall offensive balance exhibited by the Pioneers.
"Five different goal scorers is great," he said. "It gives us options and it makes things more competitive in practice. Competition breeds good things. I think the guys are confident in that they now have seen what they're capable of when they put in a good overall performance."
With the win, UC improved to 4-6, and 1-1 in conference play. Nazareth dropped to 0-9 overall.
The Pioneers will be back on the field Saturday for a massive Homecoming tilt against Elmira. The Soaring Eagles are right behind UC in the standings, at 0-0-2 in league play.
Last year, UC went on the road and won 2-1, an important victory in what was a successful season. The Pioneers might need a similar type of win if they want to stay on track to earn an Empire 8 conference tournament berth.
Ruffing says the team knows it is a big game, and if they come out firing, he believes they can beat anyone in the league.
"The key for us is going to be playing exactly how we did against Nazareth," he said. "I think that if we come out flying like we did against Nazareth, we are by far the best team in the conference."