Throwing the Distance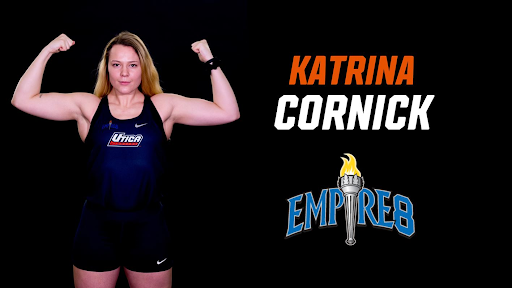 First-year thrower Katrina Cornick recently won the Empire 8 Women's Field Athlete of the Week award. The two-sport athlete threw a 39.25 meter discus over the weekend at Geneseo, which ranks 35th nationally.
Cornick's discus and shot put throwing distances lead the Pioneers and have also led her to an Empire 8 podium appearance.
What makes this award even more special for the nursing major is that her recent honor comes after two years of absence from playing.
"My coach told me I had gotten the Athlete of the Week and I was a little shocked," she said. "This is my first year back competing for track in almost two years due to injuries, and I'm glad to be back competing."
Cornick credits a big part of her success to her coaches, who always make sure she can perform at her best at every event.
"I practice every day with my coach and our assistant coach," Cornick said. "They really help me improve daily and are a big part to my success."
Cornick's head throws coach, James Lemieux, said he believes in her work ethic and dedication to the sport.
"Katrina is a very hard worker with definitely lofty but attainable goals," he said. "She understands that she is very raw, technically, and needs to improve her technique in order to not only achieve her goals but to be consistent in her marks."
Adding to the value of Cornick's award is the fact that she also plays for UC's ice hockey team. This past season, she finished with four goals and nine assists in 26 games for the Pioneers.
Cornick's individuality makes up for the biggest difference between her on-ice performance and her results on the field.
"Throwing is all individual success so it comes down to what I want out of it and relies solely on me," Cornick said. "I have awesome support from my team, though, to help motivate me and strive for more."
As far as her work with Lemieux, the duo made sure at the start of the season that their goals were aligned both for her and the rest of the team. One common theme sprung up between the two, and that was nationals.
Lemieux said that they "have the same goal for her for this season; to qualify for the NCAA championship in either shot put, discus or both."
"We are looking to score as many points as possible at the Empire 8 meet, qualify as many people as possible for the AARTFC meet and send multiple throwers to the NCAA championships," Lemieux said.
Doing this involves preparation from Cornick which includes a lot of video from her coach. Each clip helps the sophomore pinpoint positives and improvements for the next time she is ready to throw.
"They help video my throws so I can rewatch and nit-pick at any mistakes, or laugh at the falls," she said.
As far as Cornick's goals for nationals for herself and the team, she realizes that it is a high hope and a goal that many athletic programs desire. However, the athlete prefers to stay focused and positive about reaching her targets.
"It may be a high hope, but striving for the best," she said. "In the end, I'm just happy to be back competing and doing it with a great group of people and coaches."