Player Profile: John Burke
Ed Zakrzewski
Staff Writer
John Burke is a senior on the men's soccer team at Utica College. Burke is from Commack, NY, which is on Long Island. He is regarded as a highly respected teammate and player by his coaches and teammates.
In 2014, Burke appeared in eight games for the Pioneers. He recorded a total of 194 minutes on the season. His season high of 60 minutes was in a 1-0 loss against Empire 8 rival Ithaca College. In 2013, Burke played in his only game of the year against Cazenovia College. He played 27 minutes and scored his only goal of the year.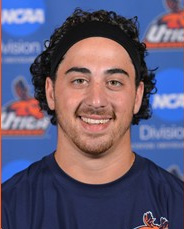 This year Burke has two goals with three shots on goal. He has the game winning goal in a 2-1 victory against SUNY Poly. Burke has played 268 minutes this year.
The reason Burke chose to come to Utica College for the career he wanted to pursue, UC offered a wonderful program for his major.
"I came to Utica College because I was recruited to play soccer here. Another reason was the great Criminal Justice program," Burke said. "UC was perfect for my career plan, which is to become a police officer".
Burke's biggest role model is his father because of the many challenges he faced and endeavors he made.
"My biggest role model would have to be my dad," Burke said. "He overcame so many challenges in his life to become as successful as he is."
Coaches teach athletes life lessons they use every day. In his four years, Burke focused on the amount of responsibility his coach expects of him.
"The biggest thing I take away from my coach is how important it is to take responsibility and ownership for your own actions," Burke said.
The Empire 8 is always a competitive conference for men's soccer. It is tightly contested. Ithaca leads the Empire 8 with a 2-0 conference record. Tied for second place is Alfred and Houghton both with a record of 1-0-1. Utica is right behind with a record of 1-1. After playing in the Empire 8 for three years, Burke agreed that the conference is very tough.
"The Empire 8 is looking really competitive and even right now. I do not think that there is necessarily one team to beat because the conference looks so balanced," Burke said.
Burke looks at his fours years at Utica College as the best years of his life. He points to the bond with his teammates as a lifelong brotherhood.
"The last four years have been the best four years of my life," Burke said. "I have gained so many lifelong bonds and brotherhoods that I will remember for the rest of my life."
Every senior dreams of ending their college career with a championship, these guys are no different. Burke sees a championship as the perfect ending to his soccer career.
"Going out with a championship would mean more than anything I could ever wish for and it would be the perfect ending to my soccer career," Burke said.