Pioneers avenge 2014 bowl game loss
Patrick Rivers
Asst. Sports Editor
"It felt like we won a championship game!"
Those are the words of junior wide receiver Jerred Beniquez, who played on last year's team when UC lost to Morrisville, ending their season. This season rather, the Utica College Pioneers avenged last year's playoff loss to Morrisville State in outstanding fashion. Final score: Utica 38 Morrisville 14. Head Coach Blaise Faggiano was extremely impressed with his defense on Saturday.
"The offense was good, but defense was the difference in the game," Faggiano said. "Last year was last year. I was completely confident that if we came in and played well, we would win."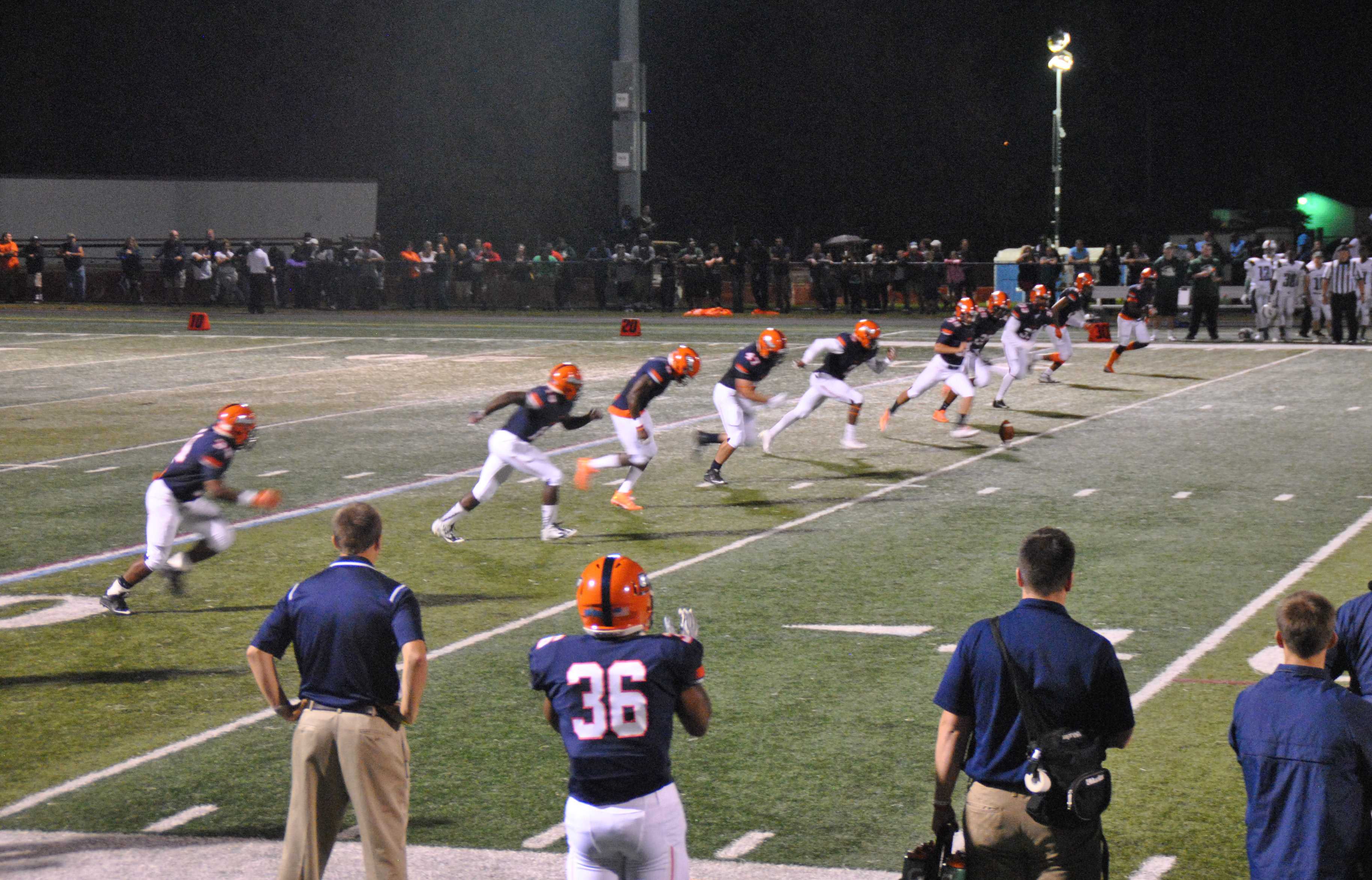 Prior to the game, Coach Faggiano emphasized the fact that these are two different teams from the past season and that it would be an entirely different game.
"Last year's loss was because of us, not them. So we have to limit the small mistakes and focus on ourselves," Faggiano said.
Those small mistakes he was referring to? Fumbles, interceptions, penalties, and sacks. The tremendous play of junior quarterback Teddy VanGalen has made a few of those mistakes one less worry for the Pioneers. He threw for 313 yards on 25 completions and two touchdowns on the night.
Through three games, VanGalen has thrown only one interception on 101 attempts. He's amassed 876 yards through the air to go along with five passing touchdowns. VanGalen must give credit to his offensive line, who have only allowed 1 sack on the season to this point.
The offensive line is also doing a wonderful job creating holes for junior running backs Nicodemus Gambill and Ryan Burnett to run through. Yet, UC's rushing attack received some key contributions from an unfamiliar name this week in freshmen running back Malcolm Stowe. Coach Faggiano was very pleased with his efforts.
"We needed that promising effort from Malcolm, with Felix (Rodriguez) out and Nicodemus still battling a toe injury, he came up big for us," Faggiano said.
Stowe finished with 12 carries for 60 yards and made a few huge runs for the Pioneers. Although Gambill was battling an injury, he still managed to rack up 39 yards on 6 carries, including a 9-yard touchdown run just five minutes into the second quarter to give UC a ten point lead. Junior captain Ryan Burnett finished his day with 88 yards on 21 touches to lead the ground attack. Now, he's just hungry for more.
"I'm just ready for Cortland next week, it's another big game," Burnett said.
Stowe wasn't the only player who came up big when called upon. Senior Alex DeRusso also stepped up and made some huge plays for the Pioneer offense this week. Just three games into the season, DeRusso has 16 receptions for 251 yards; already more than the 14 receptions and 190 yards he posted all of last season. DeRusso led the Pioneers against Morrisville with 9 grabs for 161 yards. Jerred Beniquez followed suit with 9 catches of his own, totaling 70 yards.
Both DeRusso and Beniquez secured one of those nine catches in the final minute of the first half on a 5-play, 87 yard drive. DeRusso's 40-yard catch up the sideline set Utica up with a first and 10 at the Morrisville 23-yard line. The ensuing play, VanGalen zipped a bullet to Beniquez across the middle and into the end zone with seven seconds remaining in the half. This drive gave the Pioneers immense momentum going into the half and they never looked back. VanGalen also hit his favorite target Greg Palmer with a 20-yard touchdown strike in the 3rd. Palmer finished with 5 catches for 61 yards and 1 score.
Stellar defense by the UC Pioneers made it very tough on the Morrisville offense. The Mustangs went 1-for-10 on third downs on the night. The game was broken up into 91 offensive plays and only 53 defensive plays for UC. Therefore, the offense did a great job of controlling the game, while the defense did a great job getting off of the field.
The Morrisville offense was held to just 257 total yards. Preseason All-American Juwan Wilson led the UC defense in tackles for the sixth consecutive game, dating back to last season. Wilson finished with ten tackles in the game. All-time sack leader Nick Woodman scored a touchdown on the night after recovering a fumble in the end zone. The fellow preseason All-American also recorded 1 sack on the night increasing his career total to 20.
The Pioneers next take action against a very talented and undefeated Cortland State team on the road this Saturday. The two teams will square off at 1 p.m.