James McClendon
Staff Writer
Coach Devyn Ramsay is in her first year as a Utica College cross-country/track and field assistant coach. She is very excited to be a part of the Utica College community.
Ramsay graduated from Benzie Central High School in Benzonia, Michigan. So the decision to be a part of the Utica College cross-country and track and field coaching staff was easy for her.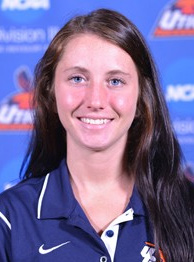 "I felt Utica would be a better fit for me because it is what I have been used to," Ramsay said.
Ramsay graduated from the University of Toledo with a bachelors of Arts and Science with a minor in School Counseling and a concentration in Public Health. She was a member of the Division I cross-country and track and field teams. Making the 2009 and 2010 All-MAC Second Team in cross-country, Ramsay helped bring Toledo its third MAC Cross-Country Championship in 2010. In 2013 she was named to the All-MAC Second-Team in Track and Field and competed in the NCAA's.
Upon graduation from Toledo she experienced her first taste of coaching when she headed home to help out her high school teams. There she assisted the cross-country team from fall 2014 until the spring of 2015. As a 2009 graduate, Ramsay was All-State in the 1,600, the 3,200 and the 4×800 meter. She currently holds the school-record for the 3,200 meter. As a 2006 Division III State Champion, Ramsay helped the team secure its second straight Division III LP State Championship.
Ramsay will use her experience as a champion to focus on the men's and women's long and middle distance runners, but will also be assisting head coach Jason Rose with all aspects of the men's and women's cross-country teams.
This was her first collegiate coaching experience, and she was surprised with the amount of work that went into getting the team prepared for meets.
"I didn't know what to expect," Ramsay said. "Coaching at Benzie, I didn't get to see a lot of the background work."
For some former athletes the transition from player to coach can be a tough obstacle. But for Ramsay it is now more of a mental experience, rather than a physical one.
"It's not necessarily hard, but it's a lot more than I thought went into cross-country," Ramsay said.
Ramsay has only been at UC for a short time, but she feels right at home here. She appreciates the close-knit feel of campus.
"I really like the family atmosphere Utica promotes," Ramsay said.
With the cross-country season in progress, Ramsay can already see the team chemistry of the athletes she is coaching. The runners have made the transition for her smooth and enjoyable. With a very young team Ramsay feels she can relate to the growing process her athletes are going to experience, since she is new to UC as well.
"It makes it easier for me to coach if the kids love it and want to be here," Ramsay said. "They're going through as many changes as I am."
Ramsay has received a lot of help from the strong leadership of the seniors and juniors on the team. She is excited to see them grow.
Both the men and women's cross-country teams have competed in two meets this year and look to improve consistently. The Pioneers travel to Williams College on Saturday to compete in the Purple Valley Classic.