College Before Sports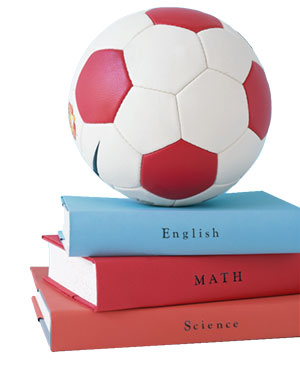 Alyssa Raga, Staff Writer
Many people grow up with a love of sports, whether it's playing the sport themselves, wearing their favorite player's jersey or cheering loud for their team at home on game day.
For the people who choose to show their love of sports by actually playing them, sometimes they only show that love for so long. Many people play sports when they are younger, and even all the way through high school, but choose not to play at the college level. There can be many reasons for this: some people want to focus mainly on academics in college, others do not have the time that they used to, some just simply do not want to play anymore.
Students at Utica College are no different. Many of them used to play sports but chose to stop once they entered college.
Senior Jessica Peterson is one of those students.
Peterson has many fond memories from her time playing soccer.
"My favorite part was that I got to hang out with my friends," Peterson said. "We also won sectionals one year."
Peterson eventually made the decision to stop playing soccer simply because she just did not want to play anymore, but she still misses the sport.
"I definitely miss the exercise you get from playing," Peterson said.
Torin Bacon, a senior, used to play soccer and run track and field in high school but also no longer plays sports.
For Bacon, it was all about the competition that made him play
"The best part was the competition," Bacon said. "I really love competing. I also just really love sports in general, so I always wanted to play them."
The decision to stop playing was not an easy one for Bacon, but it was one that he knew he needed to make in order to be successful.
"I wanted to focus on academics in college," Bacon said. "The PT program is very strict. I miss the team atmosphere and just the fun of playing."
Cassie Farrell, a senior, played many sports during high school, including basketball, soccer and track and field.
Farrell started playing each of these sports for different reasons.
"I started playing soccer as soon as I was able to because my older brother did," Farrell said. "I started playing basketball because I was so tall, so I just kind of did it by default and ended up being good. I started track because I was a stronger girl, and they needed more girls on the team."
Coaching was always something that was very important to Farrell.
"The best thing about playing each sport was that for each team the coach wasn't just a coach, they were like a family member who was concerned about you as a person and didn't just see you as a player," Farrell said.
Farrell stopped playing sports because they just simply were not for her anymore
"I was never someone who planned to continue on with sports because, after high school, my dreams shifted to more long-term life aspirations and playing a sport just wasn't involved in that for me."
Freshman Alyssa Lombardo used to play softball her junior and senior year of high school, but actually had to take a break from playing the sport.
"I played before high school, but I had to stop for a few years due to injury," Lombardo said. "I loved playing, so I started again during high school."
Lombardo's favorite thing about playing was how the team became like a family, which led to one of her favorite memories from playing.
"Senior night was great," Lombardo said. "They surprised us with decorations."
As much as she loved playing, Lombardo made the decision to no longer play after high school.
"I wanted to focus on school," Lombardo said. "My injuries, including concussions, also stopped me from playing anymore. I really miss just being with the team more than anything."