Pioneers bounce back Sunday
Edward Zakrzewski
Staff Writer
On Wednesday the Utica College men's soccer team got the monkey off of their back and won their first game of the season against SUNY Poly 2-1.
"It felt great," assistant coach Alex Fisher said. "Our guys played hard. We are awarded for our efforts."
Senior Nick Hallett picked up his first victory of his college career in goal. Junior Patrick Claffey scored his first goal of his college career and the first goal for the Pioneers in the game. The Wildcats tied the game up early in the second half, but senior John Burke scored the game-winning goal for the Pioneers for the first win of the season.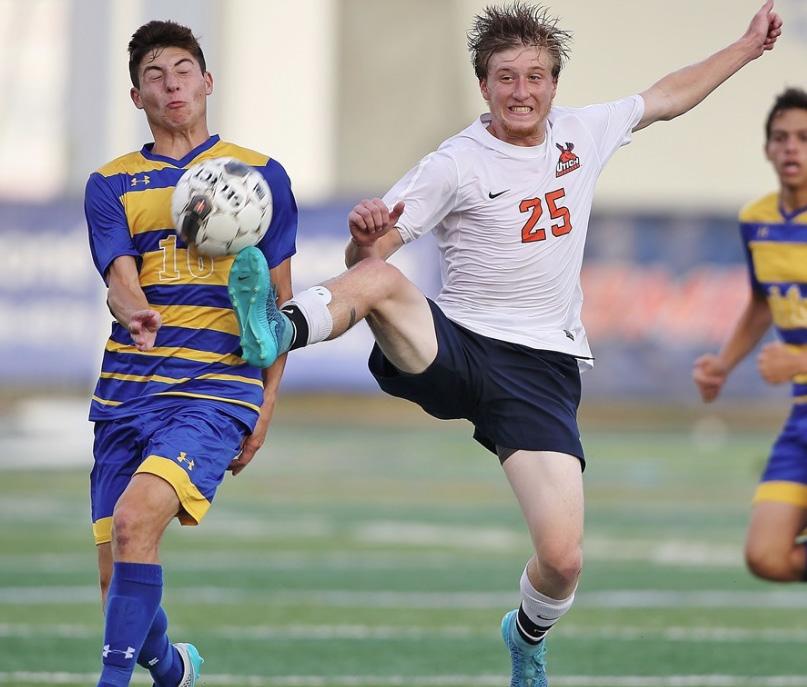 The Pioneers were looking to continue their momentum into the weekend matchup against Oswego State. The Pioneers were shut out 2-0 however, with each of the goals being scored by Oswego's Alex Sestak.
UC controlled most of the game, as they out-shot the Lakers 15-11. They also edged out Oswego State on shots on goal five to four. The Pioneers had nine corners and Oswego State had eight. Oswego State committed 18 fouls and Utica College committed 13.
The goalie was the difference in the game for Oswego State. Todd Lawson made saves on all five shots the Pioneers had on goal. Hallett saved two of the four shots on goal, which was the two goal difference in the game.
Senior Shane Ruffing had two shots on goal and four all together. Freshman Peyton LeReaux had three shots with one on goal. Claffey had two shots and one on goal. Sophomore Bita Gazashvili had two shots in the loss also.
Looking to win two of their next three games, the Pioneers hosted Wells College on Sunday. The Pioneers scored three goals to get their second win of the season, and their second win in their last three games.
Shots were in favor of Wells College 15 to 14. Shots on goal were six for both teams. Saves were five to three in favor for the Pioneers. UC scored its three goals in a six-minute span.
The leader for UC was Gazashvili, who scored two of the three goals for the Pioneers, which tied his career high. In the 38th minute, senior Justin Schray crossed the ball in and it was headed home by junior Raine Owens. It was the first goal of the season and the third of his college career.
After winning two of their last three games, Fisher focused on the mentality of the team to keep the winning streak alive.
"We need to stay mentally dialed in and stay mentally focused for the full 90 minutes," he said.
The Pioneers will head to Ithaca this Saturday for the team's first conference showdown of the season.