Coach Profile: Eileen Coyle
Corey Giacovelli
Staff Writer
The Utica College athletic department now has a Hall of Famer on its staff.
Women's soccer coach Eileen Coyle is a member of the Herkimer County Community College Hall of Fame, following a highly successful playing career. She led the Generals to a national tournament appearance in 2005, and received the Green and Gold award for her outstanding performance.
Coyle discovered the job at UC by using a resource called the NCAA job market. Once she saw the Utica College coaching position, she immediately knew that this was the first head coaching job she wanted. Coyle started prepping right away in hopes of getting her first head coaching position.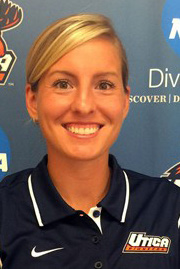 Her first coaching position was as an assistant at St. Lawrence University, where she worked under the guidance of Franco Bari. The duo helped lead the Saints to 25 victories in three seasons, including a nine-win season in 2011.
Under Bari, Coyle learned very valuable lessons about what it was to be a coach and how to be a successful one as well. The way that Bari conducted himself shaped the way that Coyle was going to lead the first team that she was able to call her own.
"I think the thing that I will carry on and remember the most is his love of the game, and his work ethic," Coyle said. "Coach Bari was extremely committed to the team, department, and development of young women."
After her stint at Herkimer County Community College, Coyle went on to play at SUNY Geneseo. Coyle also played lacrosse along with soccer and earned SUNYAC All-Conference honors on the soccer field. Her best soccer memory was at Geneseo the year that they won the conference tournament.
Coyle and her squad were struggling half way through the season and were a loss away from not even making it to the tournament, but then her team turned up the intensity. They were able to qualify for the tournament, upset the one seed, and eventually went on to win the whole thing.
With all of these memories taking place in the New York area, the decision to coach in Utica has been comforting for Coyle.
"Knowing that if I was fortunate enough to be named head coach, I would be in an area that I consider home was very comforting through the interview process," Coyle explained. "Having the support system of my family and friends, only a little over an hour away in Oneonta makes me feel extremely fortunate."
Coyle was just like any other athlete in the world, having her own rituals and superstitions before the game. Whether it was going through exactly the same routine every day, or wearing the same earrings that she has worn during her hot streak, she did not want to jinx any momentum that she had going for her. One vivid superstition that she can remember perfectly was during the national anthem. If the flag was waving, she knew it was going to be a great game.
Coyle is excited to work with her new squad and cannot wait to make everlasting memories with them, even if that means making the players not like her because of three-a-day practices.
Coyle loves soccer more than anything in this world and as she puts it, soccer is more than a game.
"It's been a driving force throughout my life, to continually pursue something that I am passionate about," she said. "Through soccer I earned a quality education, played at a high level, started a career, and made my family and friends proud