Player Profile: Roman Ammirato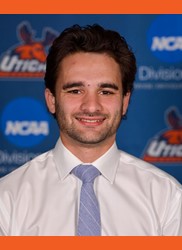 Andhika Wardojo, Staff Writer
Utica College senior Roman Ammirato is currently playing in his second season with the Pioneer men's hockey team.
Born in Williamstown, New Jersey, Ammirato was a transfer student from Union College and arrived as a junior. Eight games into this season, Ammirato has scored four goals and dished out six assists.
Ammirato was a key contributor to the Pioneers' three-game winning streak to start the season totaling five assists in those games. Ammirato also managed to score two goals against Chatham last week to lead the Pioneers to a 13-1 victory.
UC men's hockey coach Gary Heenan believes that Ammirato brings a positive impact to the team with his energy and intelligence on the ice.
"Roman leads in assists and he uses his teammates to help us win," Heenan said. "He has the ability to impact each and every game we play."
Ammirato has enjoyed being part of the UC hockey team since the beginning. He enjoys playing in the Adirondack Bank Center at the Utica Memorial Auditorium. The atmosphere and the fans are huge factors that made him love being a Pioneer, and he believes the positive atmosphere motivates his team to play better..
"What I enjoy most about being with the UC hockey team is how amazing our fans are that we play in front of at the Aud," Ammirato said.
Hockey is a huge part of Ammirato's life after 20 years of experience on the ice. He started playing hockey at three years old and has not stopped since.
"I play hockey for the love of the game," Ammirato said. "I could not imagine doing anything else."
Ammirato said he first discovered his team's potential and the opportunity to be successful after meeting Heenan for the first time. The decision to come to UC was easy for him, but the biggest factor in his choice did not come from the coaches or the Aud.
"I have enjoyed my time here at UC since day one," Ammirato said. "I had played previously with a great friend and our current captain Brett Szajner. He played a big part in me coming here as well."
Ammirato believes that taking care of his body is a key factor that has contributed to early success this season. He is watching his diet because he believes that consuming healthy foods will help his performance on the ice.