Bombers shut out Pioneers
Andrew Mazzatti
Staff Writer
The 2015 season has officially ended for the Utica College women's soccer team after their match on Saturday. They lost their last game of the season to No. 24 Ithaca College 4-0.
The Pioneers travel to Ithaca for their last conference game of the season. UC did not have a chance to make the postseason, but they still wanted to put up a fight for the last game of the year.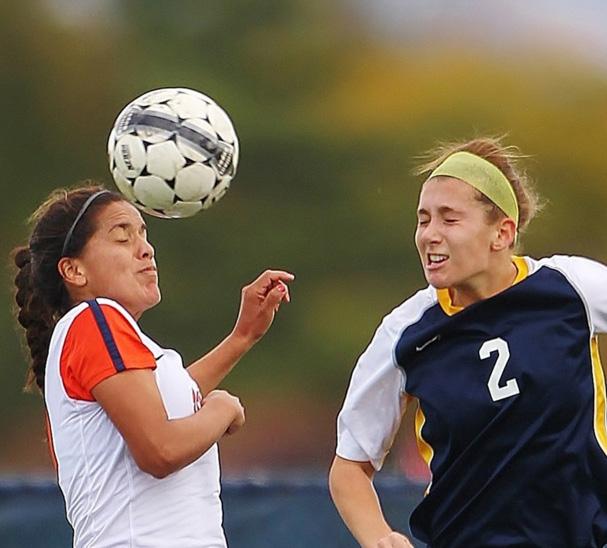 In the first half the Bombers scored the first goal of the game less than ten minutes into the game. Ithaca continued to put the pressure on the Pioneers' defense, and eventually were able to get their second goal of the game. UC was down 2-0 at the end of the first half.
The second half showed as much as the first as the Bombers continued to fire shots on the Pioneers' net. Eventually they were able to add two more goals to their lead to make it 4-0. The Pioneers were unable to get a ball in the back of the net. UC only had six shots on goal compared to Ithaca's 43.
The Pioneers ended their season with an overall record of 3-13-2 to go along with a 1-7 record in the Empire 8 Conference. Even though the women's soccer team struggled this season, the team is ready to move forward and get better for next fall.
"I want the team to be able to win some more games, but to also be a close family," freshman Jenna Mazza said. "I want them to stay positive when it would be easy not to and always have each other's backs on and off of the field. I want other teams on campus to also be able to look at us and be able to recognize that we are proud to be playing for Utica College."
Expectations for next year with the team have already started according to head coach Eileen Coyle.
"My expectations are that "next season" starts today," Coyle said. "As a team, if we truly want to compete and be successful, we dedicate the time now to be prepared for next season."
Coyle is finishing up her first season here at Utica College as the head coach of the team. The season ended up being a learning experience for Coyle and her team.
"It has been a great first season here at Utica College. The team was incredibly hard working, and the athletic department was very supportive," Coyle said. "I learned a lot this season, and I'm looking forward to what we can accomplish in the future."
It's impossible to predict the outcome of sporting events, however after watching a full year of this team one thing is for sure. The women's soccer team has a positive attitude from the returning players and with Coyle at the helm, the team will lack nothing when it comes to heart, effort and determination.