Coffey energizes UC Men's Basketball Team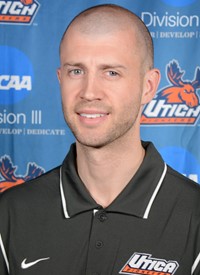 James DenBleyker, Staff Writer
The Utica College men's basketball team is looking forward to the 2017-18 season as the first game looms in mid-November. As practices started a couple weeks ago, the Pioneers have a better understanding of second year coach Sean Coffey's approach to the game. Starters from last season Ivan Iton and Carl Taylor are set for another season while they also have newcomers to the team.
The Pioneers faced a losing record last season during Coffey's first year with the program. Utica finished with a 10-16 record last season and despite being six games under .500, Coffey was optimistic on how the team did.
"Last year was more of a culture year in terms of how we wanted to establish things," Coffey said. "Our work ethic, our intensity level, our competitiveness, and guys bought in really well to that."
The Pioneers were not disappointed by last season's performance and believe they are prepared for a great year. Since there were no seniors last season, the team has developed a collective group of experienced players.
Coffey made it an emphasis this season that there were new players coming into his system, and the talent level was to increase as the season goes along. He is also excited about upcoming players that might make an impact this season. Players such as RIT senior transfer Joe Stortini were key acquisitions to the Pioneers, according to Coffey.
        Returning players, including senior guard Carl Taylor, think the addition of some athletes will put the team in a better position to win.
"Coach Coffey put in a lot of recruits, all from different places that can bring a lot of skill levels to the team," Taylor said.
Last season, Taylor was able to score 127 total points along with 73 assists and 33 steals. Along with fellow teammate Ivan Iton, Taylor is coming into his senior season with high expectations.
Also anticipating his senior season, Bennito Ayarza thinks that winning four out of five games to end last season has motivated the team. During his 2016-17 season, he was able to rack up 78 points with 83 assists and 50 steals.
UC is scheduled to play in a Rochester Tournament next Friday, Nov. 17 at 3 p.m. as they will take on the Lions of The College of New Jersey. They will also play their first home game on Nov. 27, against the Cazenovia Wildcats at 6 p.m. at the Harold T. Clark Athletic Center.