Women's lacrosse cruises by Houghton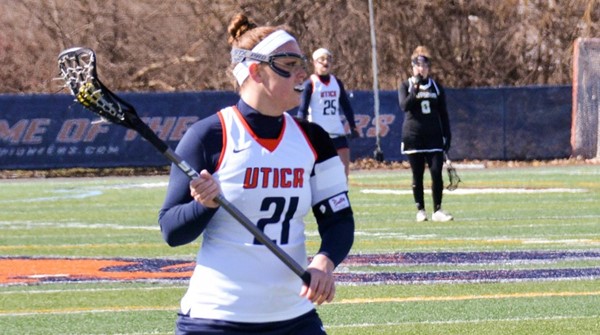 Morgan Golliver, Staff Writer
(Photo credit: ucpioneers.com)
Coming off a win against Cazenovia, the Utica College women's lacrosse team hosted Houghton College in an Empire 8 matchup on a rainy Saturday afternoon.
The Pioneers scored early in the first period as senior Rebecca Plunkett put UC up 1-0 in under 20 seconds . She would then go on to score a hat-trick within five minutes.
After seven unanswered goals by Utica, Houghton finally scored with 6:19 left to play in the first as senior Jennifer Zacchigna scored an unassisted goal. Utica took a 8-3 lead at the half.
Coming out for the second period, the Pioneers did not lose their momentum as graduate student Colleen Dowling scored in the opening 19 seconds.
The Pioneers went on to win 17-7 at home with five goals by Plunkett and three goals by sophomore Katlyn Scarpinella. Dowling had a team high five assists. Goalies Hali Vandermeulen, Amanda Lupo and Emily Holtshouser combined for eight saves in the win.
For the Highlanders, Zacchigna finished with six goals in the loss.
Looking ahead, the Pioneers will stay home to take on Morrisville State Tuesday in a non-conference matchup.