Player profile: Rebecca Plunkett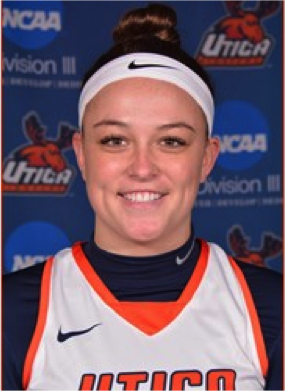 Jacqui White, Staff Writer
Rebecca Plunkett, a senior from Kings Park, has played lacrosse since she was in kindergarten. Besides starting all 16 games for the lacrosse team last season, Plunkett also had a team high of 40 goals last season. With her two assists that she had during the season, Plunkett came in second on her team with 42 points overall.
Plunkett also held second place on her team with 92 shots, giving her a .435 shooting percentage last season. She also had a team high of 72 shots on goals last season, which gave her .783 shot on goal percentage. Last season, Plunkett also had two game winning goals, one at Albright College and the other at SUNY Potsdam, both happening last March.
In the same season, Plunkett also led the team in draw controls, recording her career high of 76. This gives her the second highest amount in Utica College history for a single season. Plunkett scored a hat trick in eight games and in six of those games; she scored at least four goals. She had a season high of five goals per game, which she reached twice at SUNY Potsdam and Morrisville. Plunkett was also named Second Team All-Conference in Empire 8 for the second time in her career at Utica College.
Plunkett is a nursing major at Utica College. After she graduates from college this year, she hopes to move down to North Carolina to be a nurse.
"North Carolina is my favorite vacation spot," Plunkett explained as to why she wanted to be a nurse in North Carolina.
Plunkett isn't sure at the moment if she wants to continue to play lacrosse after college. She said that she might want to coach, but she wants to specialize in nursing. In her free time, when she's not playing lacrosse or in class, Plunkett hangs out with her friends, many of which are in her sorority. Plunkett said that, she can also be found running or working.