Player profile: Grace Gallentine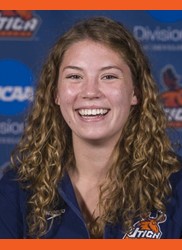 Christian Rodriguez, Staff Writer
The UC women's swim and dive team have had their ups and downs this season, which is normal for a team filled with youth. There are some experienced players who stick out and keep the team focused and positive. One player in particular that really gets the team going is junior freestyler, Grace Gallentine.
Gallentine came to UC in the Fall of 2014, when she was accepted into the nursing program. She shortly after changed her major to biology.
"I quickly discovered that biology is my true passion. I've switched majors and have since then had an amazing time here," Gallentine said.
The junior freestyler believes they there were many great moments so far this season. As she looks back, her favorite one was the senior meet at St. Lawrence.
"The meet was exhilarating and produced many great races, and it was wonderful seeing the team come together to honor our seniors," Gallentine said. "It's bittersweet to see them go, but I know that they'll all end the season well."
With all of the hard work and success Gallentine has shown, she owes most of it to classmate Phoebe King for pushing her to be the best she can be, whether it's in practice or during meets.
"We swim in almost the same events and have similar times, so it's motivational to always have a friend to race with, even on days that I'd rather be lazy," Gallentine said.
Sophomore, Lara McNamara, is very grateful to have Gallentine as a teammate. According to McNamara, Gallentine's high spirited personality and great sportsmanship makes her very valuable to the team.
"She is always hyping people up even at 6 am practice," McNamara said. "Being in an individual sport, we don't really have too much contact with the other team but Grace is always the one to go up and say good luck which is really good sportsmanship."
Another teammate, Ashley Flint, recognizes and is proud of the hard work and success of Gallentine.
"Grace is an amazing asset to the team, she's an excellent swimmer and holds multiple records," Flint said. "She works equally hard in the pool as she does out of the pool."
Student athletes like Gallentine are every coach's dream. Head coach, Erin Knight, looks at Gallentine as a role model. With her high level of ambition and determination, it is pretty amazing how many lives she can touch.
"When I think of Grace, I think of someone that I want my daughters to grow up to be like," Knight said. "Grace is one of the hardest workers on the team and is always eager for feedback to better herself in the pool and in the classroom."
The courageous junior is psyched to see what the rest of the season holds for the Pioneers in the pool.
"This has been a fantastic season so far for everyone on the team." Gallentine said. "Several records have already been broken, and many more people have been continuously improving. I cannot wait until championships!"
The pool isn't her only success as Gallentine currently has a 3.5 GPA. She also holds records in the 200, 400 and the 800 freestyle along with the 200 medley according to coach Knight.