Coach Profile: David Wadas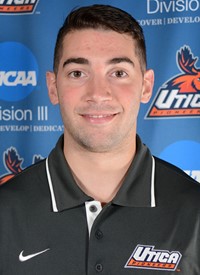 Jordan Hughes, Staff Writer
Coaching is the ability to teach what one has been taught.  A task that is far from simple and takes many years to master. One might have all the ability in the world, but to teach is a whole different category.  This week's coach profile is assistant Men's Basketball coach David Wadas.
Prior to his UC employment, Wadas served as a coach for the Hartwick Hawks.  He led the Hawks to three conference tournament appearances and two of which lead to championship titles.  Wadas has racked up many accolades both as a player and a coach in his athletic career.  UC and Wadas hope for another successful season with the Pioneers.
Coaches spend bus trips, study hours and many other times with their players talking and interacting with them.  Over time, the coaches and the team form their own personality after spending that amount of time together.
Former forward, Dylan Drexler, is a big believer in what Wadas is teaching him and the rest of the team.  Wadas is a big believer in making sure that the team is mentally prepared before the game starts.
"He is always making sure that we know what match ups are", Drexler said.
The team is coming off a conference loss to Stevens Institute.  Currently sitting at 5-13 over with a conference record of 5-4.
The Pioneers men's basketball team has fought out many close games this season.
The team has drawn a large amount of fans this year as well.  Many of them are taking notice to the hard work the team has put in.  The Pioneers community is very supportive of every sports team here on campus.
Sophomore, Mark Spina, is an avid fan of the men's basketball games.  Spina was a former player at Frankfort High School.  Spina admires the skill and the coaching that Wadas brings to the table.
"The team just has the drive and preparation every coach hopes for", Spina said.
The Pioneers currently hold a 6-14 overall record and a conference record of 6-5. The team recently dropped a game to Empire 8 rival, St. John Fisher by a score of 78-63.  Despite hard losses this season, there's still time to make a run for the conference tournament.
The Pioneers take on the Hartwick Hawks Feb. 7. The team will travel to Houghton and then Alfred, which will finish up their away games for the season.