Player Profile: Carly Tebolt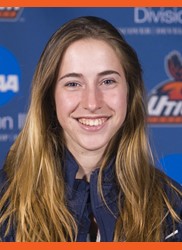 Morgan Golliver, Staff Writer
From growing up in Wappingers Falls, NY, Carly Tebolt had high hopes of coming to Utica College from the start.
"My dad went here and after hearing the stories that him and his old roommates had, it was hard not to want to experience it," said Tebolt.
After switching her major from heath studies to fraud and financial crime, Tebolt, a sophomore at Utica College, is thinking of working in health insurance fraud. Even if that doesn't work out, she knows she has more options to look into.
Even though Tebolt didn't become interested in track & field until her freshman year of high school, she has had great experiences being a part of a team.
"When I was a freshman in high school, a couple of my friends were talking about joining and said we should all join together," said Tebolt. "Ever since then, it's always been a family-like experience with the teams that I've been on."
When Tebolt came to Utica College, she was immediately welcomed to the track team.
"When I first joined the team, I only knew one person, a friend who lived on my floor," said Tebolt. "There was a track group chat, so a lot of the people in the chat got together at one of our teammate's room and that was the moment that solidified the commitment for me. I felt apart of the Utica College track family."
When asked what type of athlete Tebolt was for the track and field team, Coach Eric Parker and one of her teammates, Anaelle Amy, who is also a sprinter expressed their thoughts.
"Carly came to us kind of fresh and very young to the track program, so she had to develop from the ground up to learn the ways of Track and Field," said Parker. "But, she has proven to be a hard-worker and always demands to get better."
"I met Carly during our first track and field practice and she has been a loving, determined and ambitious teammate," said Amy.
When describing her achievements so far in her college career, Parker said the main concept of track and field isn't so much about the achievements.
"Carly really hasn't done much, but the way I see it is that track and field is more about getting better, and Carly has done that and has refined her technique in doing so," Parker said.
However, Tebolt expressed what her greatest accomplishment has been on the track team so far.
"Last year, we were racing with some of the boys and I beat one," said Tebolt. "He had just joined the team and wasn't used to the workouts as much as the others, but I still felt accomplished that I was able to push myself enough to race him."
During the winter season of track last year, Carly started experiencing shin splints and was taken out at the end of the winter season to rest. Unfortunately, after a week back into playing field hockey in the fall, the pain wouldn't go away.
"I got pressure tests done on both legs. I had my right leg done in October and then again in December before Christmas," said Tebolt. "I felt awful when I told my coaches that I needed surgery and couldn't compete. I felt that I had let them down and that my body had given up on me."
Even though Tebolt hasn't been able to participate, she still is able to attend some of the home track meets and helps out when she can.
"She has been staying connected in being an extra set of hands for the team and she has been the go-to person when I've needed help," said Parker.
"I truly miss her as a teammate," Amy added. "She is an amazing person with a great heart and I wish her nothing but the best during her recovery time."
After both surgeries and currently doing physical therapy, Tebolt is hoping to heal quickly to rejoin the track team.
"I am pushing to come back for spring track. Whether or not that'll happen depends on how my legs feel and how quickly they heal," said Tebolt. "All I know is when I get this walking boot off, I'm going to the Dome and asking my coach for a workout."