Pioneers get off to hot start
Corey Giacovelli
Staff Writer
It only took the Utica College Hockey team seven seconds to set the pace in their opening contest, cruising to a 5-2 victory over Castleton University in their home opener.
Head coach Gary Heenan set up a play for the opening faceoff to get his team off to a fast start and it could not have worked any better. Sophomore Alex Brissette took a pass off the opening face-off and scored one of the fastest goals to open a game in Division III hockey history to set the tone.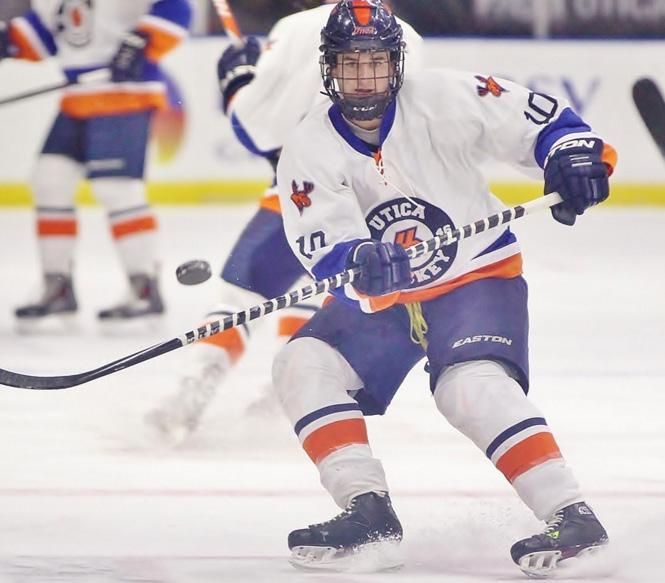 The official box score listed the goal at seven seconds and according to the Division III hockey record book it is the second fastest goal to start a game in the history of Division III men's hockey. The fastest goal in Division III men's hockey history is listed at five seconds by Chris Palin from Brockport back on January 11, 1989 against Oswego State.
The Pioneers were looking to build upon a disappointing last year, going 11-10-5 last season with a 4-8-3 record in conference. This team is different though, there are just three seniors total on the squad with loads of young talent ready to make an early impact for the team.
One of these new faces was freshman Hayden Dawes, who broke a 1-1 tie in the second period for his first ever-collegiate goal. Then just a minute and two seconds later, another freshman LJ Fellows got his first goal as well giving the Pioneers a 3-1 going into the second period.
Between the pipes, there was also a new goalie for the Pioneers as freshman Michael Fredrick earned his first collegiate victory. Fredrick stopped 26 shots in the win, with almost half of those coming in the final period proving down the stretch that he can step up when it matters most. Castleton's keeper, Ryan Mulder and Brody Wagner combined for 28 saves as they just could not keep the Pioneers from finding the back of the net.
It was smooth sailing the rest of the way for the Pioneers. They only let in one goal in the second and third periods, while they kept knocking in goals themselves.
Utica capped the scoring on the evening when assistant captain Easton Powers scored an empty netter with 21 seconds to go in the contest to give the Pioneers the three goal victory. Vince Stefan and Anthony McVeigh assisted on the Pioneers final tally.
Heenan though, did have a couple things that he would like to improve on.
"We were a little sloppy at times in the neutral zone and passed up to many scoring opportunities," Heenan said. "We have to get better to compete in our league."
That wasn't the only thing the Pioneers hope to improve on. The team was just 1-6 on Power Plays opportunity, a statistic that Heenan would love to improve on because after all, they are playing with a man advantage. When it comes to shots, the Pioneers held a 33-28 advantage, which proves that UC kept attacking the opposing goal keepers all game long.
After having a relatively easy game on Saturday, the Pioneers are heading towards a tough early season start. As they face off against Nazareth College Friday and Saturday. UC has a young team and it will be interesting to see how they respond going against a Golden Flyers team that finished 12-10-5 last season and 7-4-4 in conference. Not to mention Nazareth never lost against the Pioneers last season.