Commuters struggle with campus parking
Amanda Fanelli
Staff Writer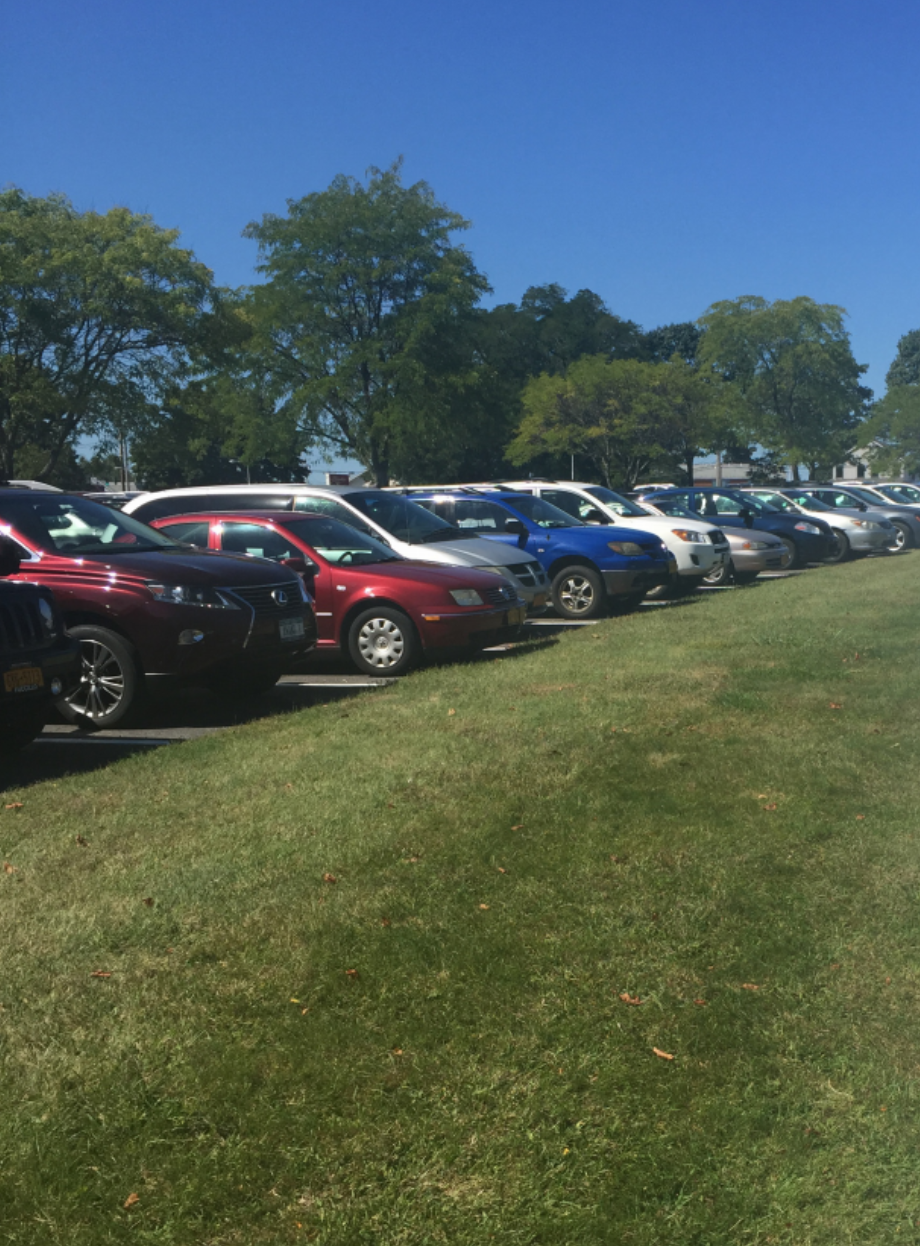 Ask any commuter at Utica College about parking, and they will most likely say it has been nothing but inconvenient and frustrating. With the increase in enrollment this semester and construction on campus, there are fewer parking spots for commuters.
Wayne Sullivan, director of Campus Safety knows all too well about the parking situation on campus. On Sept. 4, Sullivan sent out an email to all members of the UC community regarding campus' parking situation. In the email, Sullivan asked for students to not park on the grass and to remind resident students that they are not allowed to drive to classes.
If the lot a student is used to parking in is full, that student is instructed to move on to the next lot. The email also stated that tickets would be given out to cars parked in undesignated parking spots starting Sept. 14.
A new welcome center is in the process of being built at the Burrstone Road entrance. Approximately 50-60 parking spaces were taken away for this project. Once completed, the campus will gain back roughly 30-40 spots.
Sullivan assures there is sufficient parking on campus. Sullivan states there are parking lot surveys being done hourly to show where the campus is hurting for parking. These surveys have shown that the campus parking has not been totally full yet this semester. The surveys have also showed the parking is most congested around the 9:30 a.m. time slot for classes.
Lot C has extended parking, 65 spots in front of Boehlert Hall, and has not been full yet this year. Being that it is only a few weeks into the semester, there is no established parking pattern and if it is necessary, UC will look to make more spots in the coming weeks. Approximately 400 warning tickets have been issued so far this semester. Sullivan said the tickets are not used to gain revenue but to keep control and to keep students safe.
Some students do not feel there is adequate parking on campus. Ashley Murray is a commuting senior majoring in criminal justice and minoring in psychology. Most of Murray's classes are in the Economic Crime and Justice Building and she can rarely find parking, depending on what time of day her classes are.
Murray hears people complaining every day about the lack of parking. Murray even had a full discussion about the touchy topic in one of her classes last week.
"I thought the email was crazy. It mentioned Lot C usually has available parking, but it never does and it is completely opposite of where the academic buildings are," Murray said. "That wont be fun when it's below zero outside."
In Murray's opinion, the best resolution for parking on campus would be to not have so many restricted areas and/or reserved parking spaces that are never filled.
"That's what drives a lot of people to park on the grass even though they know they'll end up with parking tickets," Murray said.
Peyton LaReaux, a commuting sophomore majoring in business, said he, too, hears students on campus complaining about the parking. Most of LaReaux's classes are spread out across the campus but he usually parks near Hubbard Hall and the ECJS Building. LaReaux said the lots are always packed there unless he is really early.
"I figured they would email a message regarding rules and regulations and where to park eventually," LaReaux said.
LaReaux's suggestion for alleviating the parking issue is to "add an extra parking lot or at least more spaces somehow. Create more space over by the soccer fields."
Utica College asks that students make sure their cars are registered, get to class earlier, and asks for patience and respect while they make sure there is adequate parking on campus.