UC corrals Kangaroos
James McClendon
Staff Writer
The Utica College woman's hockey team started off their season with two dominated wins over SUNY Canton at the Utica Memorial Auditorium.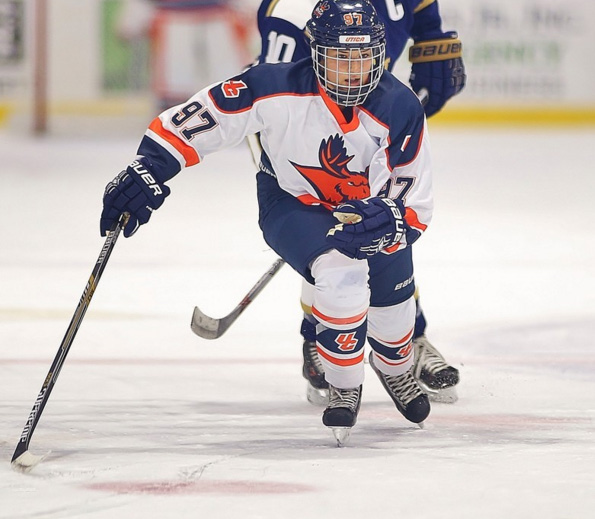 The Pioneers defeated the Kangaroos on Saturday by a score of 4–1. They followed up their strong performance with another on Sunday beating the Kangaroos 6–3.
Head coach Dave Clausen was very excited about his team's performance over the weekend.
"Two wins is always great," Clausen said, "We have things we need to work on, but I think we're on a good track."
In the Pioneers' first matchup junior Gabrielle Schnepp scored a team high two goals. Senior Morgan Reed and sophomore Carlie Smith also contributed goals of their own.
"The biggest positive is the confidence level we now have as a team," Reed said," We know we can play well and we can play together as a team."
The Pioneers were able to capitalize on three of the four power play opportunities they had. SUNY Canton was held to 0 for 5 on their power play chances.
Junior Keira Goin also had an impressive outing between the pipes recording 25 saves. Goin was encouraged by her team's performance and hopes to continue her strong play in goal.
"My personal goal is to give my team a better chance to win each individual game than I did last year," Goin said.
Utica College looked to carry the momentum from its first game into its second matchup with SUNY Canton in as many days.
The Pioneers cruised past the Kangaroos with a 6-3 win on Sunday afternoon.
Utica College was led in scoring by senior Janessa Haasbeek with two goals.
As one of only two seniors on this year's team, Haasbeek looks to lead this team of fresh faces to success on and off of the ice.
"My main personal goals are just to help the team do whatever is necessary to be successful and be a leader both on and off the ice, as we have a fairly young group of girls this year," Haasbeek said.
Additional goals were also contributed by Reed, Schnepp, junior Emily Coope and freshman Lauren Patterson.
The Pioneers were able to take advantage of three of their seven power play opportunities while SUNY Canton only went 1 for 5.
In her first collegiate action, sophomore Amanda Lupo kept 21 shots from getting by her.
This year's team is loaded with new faces including 21 members of the freshman class.
Freshman Maria Christou is very excited for what her team's future.
"As a freshman, I am so excited to be part of such an amazing team," Christou said, "I am truly blessed to have become a part of it."
The Pioneers have many goals for this season and hope to keep their winning streak going.
"I think winning our conference championship is realistic," Clausen said, "We are young, but if we grow as a group we have the potential to win every time we step on the ice."
After the strong start to the season the Pioneers sit at 2-0 and look to improve that record when they face ECAC West opponent William Smith College. The Pioneers host the Herons on their home ice on Saturday at 2 p.m. The Pioneers will then travel to Geneva, New York on Sunday for a 4 p.m. for another matchup against the Herons.