Player Profile: Juwan Wilson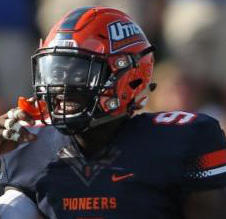 Douglas Seitz, Staff Writer
Juwan Wilson is a senior pursuing a degree in Public Relations and plans on graduating in May with over a 3.0 GPA while also leading the Pioneers to a record-breaking season at the linebacker position.
He is the son of Grace and Mitchell Wilson. Wilson is from South Ozone Park, NY, which is located in Queens.
Football became a part of his life very early on. He started playing when he was just four years old in the form of flag football. Once he turned five he put the pads on and started his long career of contact football.
When asked what sparked his interest in football, Wilson answered with "Honestly, I just wanted to be like my big brother. When I saw him play, I wanted to play."
He said that in his freshman year of high school, he realized he could be like the college football players he watched on Saturdays. He graduated from Holy Cross high school where he made an impact on and off the field for all four years.
In 2013, he decided that becoming a Pioneer was the correct life choice for him as a student and as an athlete.
Coach, William Pluff, said that they recruited Wilson because, "you could see his passion for the game every time he stepped between the white lines."
Wilson attributes his decision to play football at Utica to the family atmosphere, "The family atmosphere was the biggest thing that made me want to come Utica College, as well as the opportunity to make history every time I step foot on the field."
Making history is exactly what he is doing this season by moving into second place in Utica's all time tackle list with over 300 tackles and 77 on the season thus far.
He recently had an interview with NFL Draft Diamonds, which is a website that interviews the top prospects in the country.
Teammate and offensive counterpart, Ryan Burnette, said, "Juwan's quickness and lateral speed to run and slip through gaps for tackles is impeccable. I knew it since day one, he just took it to a whole other level."
Not only is Wilson leading the team statistically, he leads the team mentally. He is one of the captains for the 2016 campaign.
When asked why Wilson is captain, Coach Pluff said, "He leads with his play. He leads with his approach to practice. He leads with his energy that he brings to the field in practice, and in games because it is contagious."
Wilson said that being a captain means being someone that can be respected, trusted to make plays, be an example on the field but also be someone that his comrades can come to in their times of need off the field.
Many of his teammates say that a quality of his that stands out the most is the fact that he is so driven.
Coach Pluff stated that Wilson's mother is a reason that is he has such tremendous drive.
In an interview with NFL Draft Diamonds, Wilson said, "My mother is my role model. She passed away this January. She made every single game of my college career although she was dying in the process. She taught me how to put others over myself, how to work hard, and how to never stop working toward my dreams no matter what others say."
It is safe to say Wilson's mother is the main source of his drive and his success. Even with all of his success and media attention as of late, Wilson, humbly said, "through my friends that look at me as Juwan Wilson the college student, not Juwan Wilson the great football player."
Burnette said, "I'm glad he's on my team and I don't have to play against him on Saturdays."