Player Profile; Kells Casey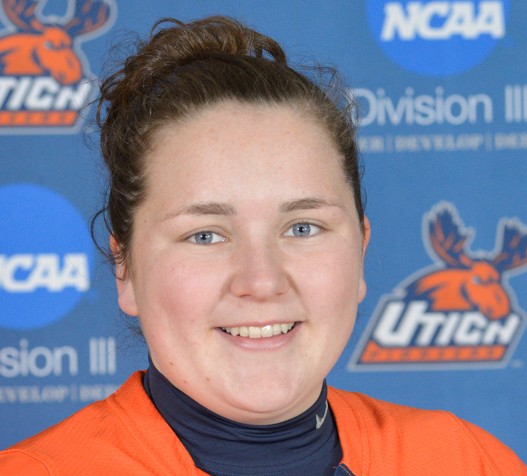 Jim McLaughlin, Sports Editor 
After four years of playing field hockey in the cage, and being a part of three Empire 8 Championships, senior Kells Casey decided to pick up a lacrosse stick and give it a shot as well.
"My roommates Colleen and Tori both played and told me to try it out so I decided to," Casey said.
It took little convincing for Casey to join the women's lacrosse team, and she put together a strong 2015 season. Casey played in 15 games last year and finished with an 8-6 record. She made 76 saves.
Following her last season in field hockey, Casey was dealing with an injury, which made her question playing this year. It was tough for her to sit on the sidelines during the first game, but then decided she wanted to be there for her team.
"It was hard to watch my team play the first game of the season and not be on the field with them my senior year," she said. "I decided to stick it out and make the best of my last season."
Casey has made the best of her season so far in 2016 as she already has four wins and a total of 44 saves. Even though she has only played lacrosse for two seasons, her experience in field hockey has come to be her advantage.
"When it comes to goalie, it is all about reflexes and reacting to the ball. It is the same for both field hockey and lacrosse," Casey said. "Lacrosse is different because you are just using your stick to stop the ball, whereas field hockey I use all parts of my body to get behind the ball."
In Casey's four years as the field hockey goalie, she had a total of 399 saves. Her 399 saves make her the career saves leader in program history. In 2013, Casey was named to the Empire 8 All-Conference first team, a member of the Longstreth/ NFHCA Division III North Atlantic first-team All-Region, and named to the ECAC Mid-Atlantic All-Start first team. After her senior season, Casey was invited to the 2015 Victory Sports Tours/NFHCA Division III Senior Game.
Head coach Kristin St. Hilaire was there to help adjust Casey to lacrosse and made the transition smoother for her.
"Coach Saint has helped me tremendously with adjusting to lacrosse," Casey said. "She has been extremely supportive and understanding the past two years."
After two seasons, St. Hilaire has seen how important Casey is, not only on the field, but as a leader as well.
"She is important to our team's success," St. Hilaire said. "Even with her injuries she still wanted to be on the team and help us in anyway. She is a good leader and brings a lot of energy to the team and the field. She has a goalie mindset that to just stop the ball, don't let the ball get past you and everything else will work out."
Not only does St. Hilaire appreciate Casey's talent, but her teammates do as well.
"It's great to have Kells back, she's a natural goalie that is tall, quick to the ball, and not afraid to use any part of her body to stop the ball," senior Courtney Wheeler said.
The Pioneers are 6-4 and 1-1 in conference play so far this season. Casey believes that the team can really make a run at the postseason after a tough loss against St. John Fisher last weekend.
"I think we have a really good chance on making it to postseason play," Casey said. "Although we lost to Fisher this weekend, we played really well and they seem to be the best in the conference this year. If we play like we did on Saturday, and put a few more goals in the net, I think we have a great chance."
Featured image; Kells Casey