Pioneers open season with convincing win
Corey Giacovelli
Staff Writer
The Utica College Women's Basketball team started off their 2015-2016 campaign with a convincing 72-46 victory over the Potsdam Bears at the Harold T. Clark Athletic Center Gymnasium Saturday afternoon.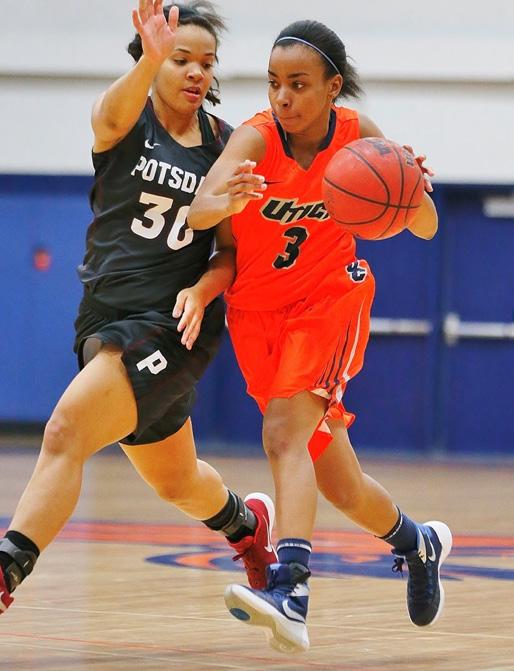 The Pioneers were coming off an 11-14 record from last season and could not have asked for a better start to this season, handily taking care of a Bears team the Pioneers also defeated to begin last season 65-54. However, this year's team was much different than last year, with the loss of Samantha Stayer and Bridget Greenwald, the Pioneers were wondering who was going to step up to make up for the loss of scoring.
Enter Ashelyne Babb, the second year player who come into the year looking to make a big impact on the Pioneers. She finished with a game-high 18 points to go along with six steals.
Backing her up was the combination of senior Mary Miceli and sophomore Alaina Tripp who combined for 25 points. Tripp especially came up big in the first quarter where she scored seven of her 12 total points in the contest. UC continued its momentum into the second quarter, outscoring the Bears 21-14 and moving to a convincing 45-21 lead at the break.
Miceli knows how important it was for the team to get off to a great start to open up the season.
"We played very well and everyone on the team contributed to the win, this win was a confidence booster and hopefully our good play will continue with us for the rest of this season," Miceli said. "It felt good to get the first game out of the way and to come out with a win."
Playing with a 17 point lead after the first quarter the Pioneers were never in any trouble. They won every quarter except for the fourth and even that was by one point. It also helps when the defense only allows seven points in the first quarter of action.
With a total of 27 turnovers caused, the Pioneers were getting in all of the passing lane and that helps a team's success through the course of the game. The Pioneers were able to further get 27 points off of turnovers. The team also dominated in the paint as well scoring 30, but also contributed nicely outside the arc with five three-pointers.
The win against Potsdam marks the seventh out of eighth time the Pioneers defeated the Bears to begin their season. The team returns to the court Thursday as they take on RIT in the Clark Athletic Center as they hope to start off their season 2-0.