Album Review: Isaiah Rashad's 'Cilvia Demo' celebrates eighth anniversary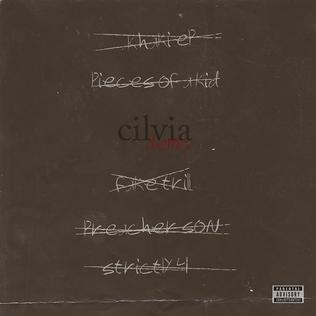 In late January 2014 indie record label and home of Kendrick Lamar, Top Dawg Entertainment, made the first of what they promised would be many releases throughout the year. "Cilvia Demo" was the first studio album from rookie Isaiah Rashad. Top Dawg Entertainment (TDE) has a small roster with an extremely high caliber of skill, which garners immediate excitement around the new artists they sign. The project received what Metacritic considers "universal acclaim" and earned Rashad his cult following that still holds the album in high esteem today, eight years after its release.
It is hard to imagine that two SZA assisted tracks back to back on a project could be bad and of course "Ronnie Drake" and "West Savannah" are no exception. The ladder's airy beat and layering of Rashad and SZA's vocals creates a depth that fills the space. This song has an energy and a feeling that is hard to achieve especially on a debut project. Throughout the project it is clear that Isaiah has an ear for beat selection and choosing producers who work well with his style. 
Upon its release in 2014 and today in 2022 there are few rappers who sound like Isaiah Rashad. The Chattanooga, Tennessee native is kept in a lane of his own due to his southern charm and effortless flows, which contain borderline jazzy beats, and are often far too upbeat for the lyrics that accompany them. "Heavenly Father " is a prime example of a soulful, upbeat and down right groovy track with lyrics that address Rashad's relationship, or lack thereof, with his father, mental health struggles, vices and an array of other serious topics. For those who relate or are doing a conscious listen, songs like this often stir up more emotions than sad lyrics that are delivered as such. Having a lackadaisical approach to serious trauma and pairing that with instrumentals that feel nostalgic, he has created the recipe for bringing baggage to the surface.
The project is able to maintain consistent themes and a cohesive flow while offering a wide variety throughout the 14 tracks. Midway through the project "Soliloquy" offers a no fluff look into Rashad's rapping ability over a bass heavy rhythmic beat with jazzy pianos that Isaiah so naturally glides over. Packed with punchlines, double entendres and old school word play this introduces us to a more intense, less emotional Rashad.
"Banana" has a dynamic beat with unlisted supporting vocals from none other than TDE's own SZA. The beat drop gives way to an angsty anthem that can only be likened to punk. "My daddy left me with no details, came back with a b**** and a stepson, I guess he forgot that he left somethin', he must have been saving the best bum." He echoes the holes left by his fathers absence with an intensity that has been building up within Rashad since his childhood and the album leading up to this point. This has left him striving for better for himself and hoping to do better for his own son, while he also addresses his own chagrin for the similarities he sees between himself and his father.
A strong display of old school lyricism and passionate storytelling paired with smooth instrumentals covered in unapologetic emotional delivery is what brings listeners back to listen to this album time and time again. Works that excel in so many aspects and offer such depth are those that last beyond the hype of their initial release. Rashad's willingness to share his own emotions has allowed for him to become the cult superstar he is today and earned him his loyal following. The raw emotion is undeniable and is what makes his music feel relatable to so many people. The number one quality that attracts me to music I love is authenticity. Isaiah Rashad came out of the gates with the release of "Cilvia Demo" as his most authentic self willing to share his personal experiences and feelings as if his music was only going to be played in the solitude of his own company.
Favorite Tracks: "Cilvia Demo," "West Savannah," "Soliloquy," "Modest" and "Banana"