Richard Racioppa: Interim Assistant Dean of Student Living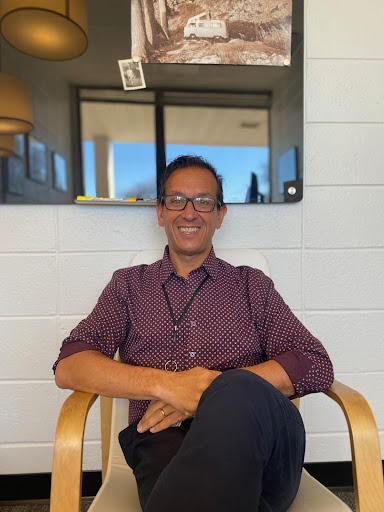 Utica College announced the appointment of Richard Racioppa as the new Interim Assistant Dean of Students and Campus Life on Wednesday, Nov. 10 through the Morning Mention.
Most recently, he worked alongside the athletic department in the Clark Athletic Center for student-athlete success, before being approached for a new role.
Remnants of his athletic roots linger throughout the office. A tall desk of computer monitors and a telephone is perched above a treadmill, which allows for several ideas to flow, according to Racioppa.
"​​I think Rich will do very well in his new position," Associate Athletic Director Jim Murnane said. "He is easy to work with and is extremely competent."
Having several years of experience working with different facets of student life, such as retention and advising, created a sense of comfort because the new position combines these experiences into a singular role, according to Racioppa.
"The other nice thing is, because I've been here as long as I have, and because of the way that my supervisors have allowed me to develop here, they've put me in a position where I am able to see how things in one area affect things in another area," Racioppa said. "So it gives you a kind of macro-level view and that's necessary if you're going to be able to make substantial changes."
Located in Strebel 206, Racioppa's office is lit by three lamps, one proudly secured at a thrift store. The walls are decorated with black-and-white photographs, art made by his children and a photo fondly placed of his old Volkswagen bus.
During his time attending Utica College, Racioppa worked as a student coordinator for new-student orientation and was introduced to his wife, Melissa, who is an assistant professor of psychology-child life.
"Utica College has always played a very prominent role in our lives," Richard Racioppa, a '93 Public Relations alum, said in the 2019 UC Love Stories magazine article. "I returned to UC in 2006 after receiving my degree in public relations and have been working with student success and retention since then."
The Interim Assistant Dean of Students and Campus Life role focuses on student engagement, residential life, and the policies and procedures involved, according to the Morning Mention announcement.
"One of the things I am hoping to do in this role is to really work with the offices on campus and coordinate our efforts to make sure that the students are meeting their needs," Racioppa said about the stresses college students face regularly. "That their concerns are being addressed and to try and make sure that these areas are running as efficiently as they can."
Racioppa said he hopes to increase student engagement on campus by working closely with other offices on campus and streamline effective communication with the parents of students.
"We clearly want to be able to partner with the parents, we know that they know their students better than everybody and the more effective we can be in that area, I think the more likely we are to have students that have successful semesters and be better students for it," Racioppa said.
Outside of the office, Racioppa is an avid aquatics and volleyball fan. He has taught lifeguard training for over 10 years to be involved with the Utica College community. Racioppa has also taken up long distance running for relaxation.