REED ALL ABOUT IT: Senior forward helps Pioneers stay unbeaten
James McClendon
Staff Writer
The Utica College women's hockey team remained unbeaten with action packed matchups against SUNY Oswego on Saturday and Sunday.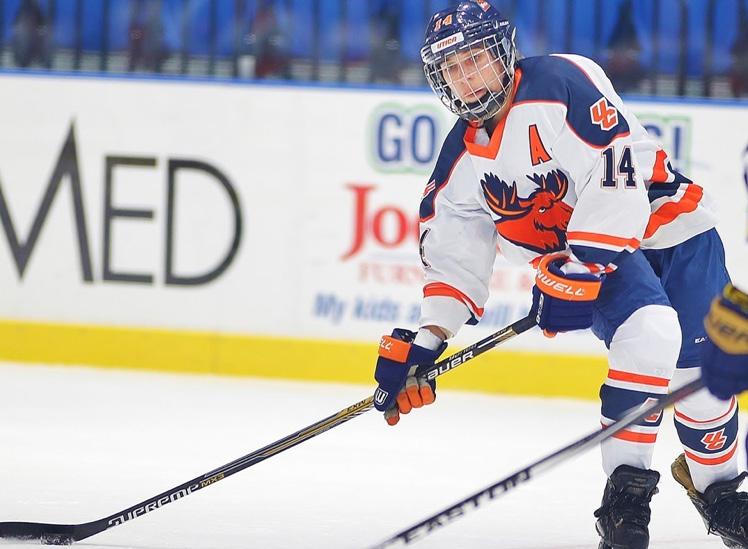 The Pioneers got the best of the Lakers in their first game of the weekend with a score of 4-1.
Senior Morgan Reed has been on an absolute tear, netting at least one goal in all six of the Pioneers' games. She is tied for first nationally with an average of 1.60 goals per game.
The Saturday matchup with Oswego was more of the same for Reed as she scored all four of the Pioneers' goals. She recorded a natural hat trick, scoring three consecutive goals with no one from either team scoring in between.
Soon after Reed's third goal, the Lakers answered back with their only goal of the game making the score 3-1.
Reed put the final dagger into the Lakers with her fourth and final goal with 25 seconds remaining in the final period. She scored when Oswego pulled their goalie to gain an advantage on the offensive end.
Even though Reed leads the nation in goals, she gave credit to the play of her teammates in helping facilitate her success.
"A lot of my success for scoring comes from my other teammates play and their ability to get me the puck at the right time and in the right place," Reed said.
Reed also acknowledged the added pressure that comes with being such a prolific goal scorer.
"Being the 'goal scorer' of the team puts a lot of pressure on not only me, but the other top players for goal-scoring as well," Reed said. "It's expected for us to score, so if we don't it's very difficult to get out of that funk."
Junior goalkeeper Keira Goin protected the net all game, recording 30 saves and only allowing the one goal. With the win, she improved to 4-0 on the season.
In their second matchup on Sunday the Pioneers remained unbeaten, but had to settle for a 2-2 tie against Oswego State.
Reed was at it again, scoring an early goal to put the Pioneers up 1-0.
Just four minutes later, freshman Lauren Patterson got in on the action with her third goal of the season.
The Lakers were down, but did not go away without a fight. Two Laker goals in the third period sent the game into overtime. Neither team was able to gain an advantage in the overtime period, so the game ended in a tie.
Goin continued her strong play between the pipes with 31 saves in this matchup.
The Pioneers improved to 5-0-1 on the season and 3-0-1 in league play. Although UC's hot start has its advantages, it can also have disadvantages.
"It's an advantage because, as a team, we know we play well together and can be a threat to anyone," Goin said. "It's a disadvantage because we become the team to beat and opponents hit the ice flying to try to prove that we're not as good as we are."
Head coach Dave Clausen looked ahead to his teams matchups with Elmira College this weekend.
"You expect about as good a game as you're going to get from a team in college hockey," said Clausen. "It's good to have some points going in to it, and knowing that we're a top competitive team and hopefully we can give Elmira a run for their money."
The Pioneers will travel to Elmira College for an ECAC West matchup on Saturday at 3 p.m. Both teams will then travel back to Utica for a 3 p.m. matchup at the Utica Memorial Auditorium on Sunday.