Q and A with Coach Faggiano: Pioneers Enter the Bye Week 4-1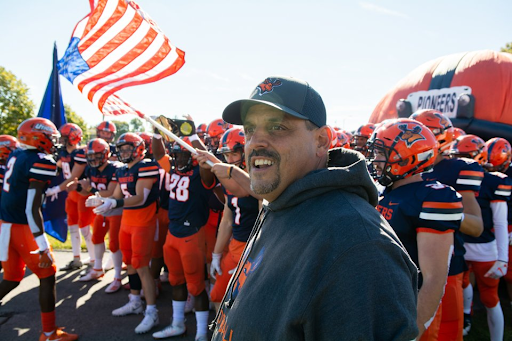 The Utica College Pioneers were able to get back into the win column after a 16-10 victory in their conference opener against Hartwick College on Oct. 2. This game was a brief introduction to their Empire 8 rivals as they enter a bye week in preparation for SUNY Brockport.
Blaise Faggiano, head coach of the Pioneers football team, continues to be impressed with his team's poise during difficult situations. This injury riddled team is taking a long, deep breath and resting up after a tough fought game that came down to Maki Medici's ability to put it through the goalpost and a freshman running back with a lot more to offer. The Pioneers will face off against SUNY Brockport on Saturday Oct. 16 when they resume action.
Q: Maki Medici once again performs to All-American levels making three field goals including a season-long 45 yarder while also averaging 39.5 yards per punt. Is it safe to say the pre-season All-American and multiple Empire 8 Special Teams Player of the Week is back after two incredible weeks?
A: Yeah he's back. He's had six field goals in two weeks. It's insane. I think obviously Nick Billand is really picking up his game, snapping it to him. You get in those games and when you can have a punter like Maki with his hang time and you really get no returns. I really thought we were going to get one back that they fumbled on the return that we didn't quite get back, but he certainly stepped up.
Q: Field position played a huge key as Hartwick didn't start a single drive beyond midfield and each time you were given the ball in opposing territory, you guys capitalized. Was finishing a huge emphasis coming into this week?
A: Well it was huge. I think the challenge has been which I think is just a respect for our offense and for our football team is just the amount the defenses have changed going into the game. We're going out there and we have two tight ends in the game. We're going out there with bigger personnel and they only got three defensive lineman and they're playing max coverage. Nate [Palmer] says wow. I think particularly in the fourth quarter, we spread them out and we're able to run the ball and throw the ball. Some guys stepped up like Joey Nare and Travis Decker. Nate Palmer always really steps up there during that period and then obviously the freshman running back had himself a day too. Kudos to our offensive line and to James Salles for some of the runs that he had. Needing him to step up, because we're not a one running back team. We've always been a multiple back team. We kind of play the hot hand at times and James really stepped up and made some plays for us.
Q: Defensively, the team once again played to perfection. Some names that come to mind with their performances looking at the stat sheet were Devin Bryant, Jimmie Warren, Kwasi Addo and Doug Simmons. How would you describe these players' performances?
A: In back-to-back weeks they've been dominant. Our defense has been outstanding. Watching them develop and guys keep stepping up. Daryl [Savage] came out early, very upset as there was a high-low block. Just a clear as day penalty. Hopefully we'll have him back soon. Then Doug Simmons steps up because Daryl is out and playing that will position that Jimmie plays so well. Jimmie Warren plays all over the field. He's playing defensive line, linebacker, he's pass dropping and he's blitzing. He's a smart young man so we can move him all over the place. Jimmie and Doug at the will position had a huge game. Devin Bryant, like crazy things happen to this kid. So, he loses his contacts in the middle of the game and has to run all the way up the hill to get his contacts because he didn't give them to the trainer. Then, he was having issues with his eyes after that and amongst all of that I said 'man you could have 15 tackles in two interceptions but you're missing the time cause you went back to the locker room.' That's just kind of how this game was. It was just crazy and everyone's got some plays they want back. I talked to Kwasi about ending the game on his interception. Just take a knee and the game can be over. We learned a hard lesson there. Defense has been dominant and our staff has done a great job mixing it up and coach Carr has a good offensive mind and puts his guys in good positions. We hit with five sacks and probably missed a few more. We did lose John Stroughn for the season on a knee injury, which was very unfortunate. With his leadership and his abilities, he's just an outstanding young man and again, other guys stepped up and played well. The Josh Powells and Ben Arthurs and Jordan Weavers. The goal line stand. We have to talk about that. We call it "big dog" when we get Marquez [Lott-Douglas] and [Mike] Rollins in. Those guys, when they're in the middle, play outstandingly. We call it our "big dog" package when they're in there. It was a huge situation in the game to hold them to field goal attempts so defense continues to play well.
Q: How soon do you begin preparation for SUNY Brockport knowing you have a bye week this week?
A: I don't think we're gonna get the film till Wednesday. So, although we've played them, their offense has some different things, but I think their defense is pretty similar. We'll do a little bit today and tomorrow, but not a lot. I think it's more about us. Sharpening up the things that we have to work on. I think by Thursday there'll be a lot of sculpting stuff and running the different Brockport fronts. We have a little idea from our game last year. In passing, you kind of see them online, because they're playing at night. I watched a little bit of the Fisher game on the way home when the internet was coming through Oneonta. I think it's more like these first couple days are about getting healthy. You want to keep them going. It's that balance of being able to practice hard and smart. Taking too much time off is not good. I think we don't have to be as physical and don't have to hit as much and we can still get a lot done.