New multipurpose turf and athletic field nearing completion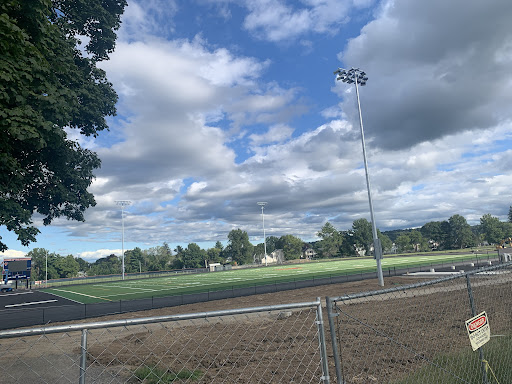 It wasn't too long after the spring semester ended that construction was underway on the new synthetic turf field and outdoor track, which was a $2 million gift commitment to the college.
That gift is coming to fruition as work has been steadily ongoing over the summer and should be wrapping up soon. The target for completion is mid-October according to Athletic Director Dave Fontaine. 
Many athletes and coaches around campus were thrilled to hear the news, especially students-athletes who participate in track and field. This is Utica College's first outdoor track  and it comes during the College's 75th anniversary. Having not one, but two fields along with the Todd and Jen Hutton Sports and Recreation Center, gives Utica College an advantage for recruiting down the road for all sports.
President Laura Casamento made the initial announcement on Nov. 17, 2020, which impacted nearly 700 student-athletes at UC. 
James Lemieux, the head coach for men's and women's Track and Field said he was thrilled to hear the news that Utica College was getting an outdoor track.
"We've never had a place on campus for outdoor events," Lemieux said. "Myself and the rest of the coaching staff and athletes are all very excited to have a new space we can call home. There will be more space for us to use in practice, especially for long jumps, hurdles and other outdoor events."
Having another full-size field means more flexibility with practice, scheduling and game times.
Fred Holmes, a junior on the men's Soccer team said at times it became difficult to have practice because of all the teams using the same field.
"There are days where our practice time gets adjusted because of another team's practice or game time and it can be aggravating to deal with," Holmes said. "At times, I've had to change my schedule in order to work around the new scheduled time. Hopefully, it will be ready in time and we will be able to have some games there. I'm hoping it's finished by early October."
Hosting an Empire 8 Championship on the new outdoor track in the next few years is something graduate student and men's Track and Field star Chase Pecoraro is very excited about, considering he is back for another year to compete. 
"When I heard the news, I was thrilled and I'm happy it will be done in time for the season," Pecoraro said. "Ever since I heard the news in the spring, it made me excited to be able to compete. Having an E8 Championship in a couple of years should be exciting, not only for the team, but for the parents and fans as well."