Corey Giacovelli
Staff Writer
The Utica College volleyball team had a tough weekend at the Oswego Invitation this weekend, dropping all four matches over the course of two days.
The weekend moves the Pioneers to 2-11 on the season but coach Aris Bird is proud of her team due to the level of competition they played this weekend.
"This past tournament we played teams that are consistently in the top four of their conference and we had a competitive showing," Bird said. "We went four games with Sage and five with D'Youville."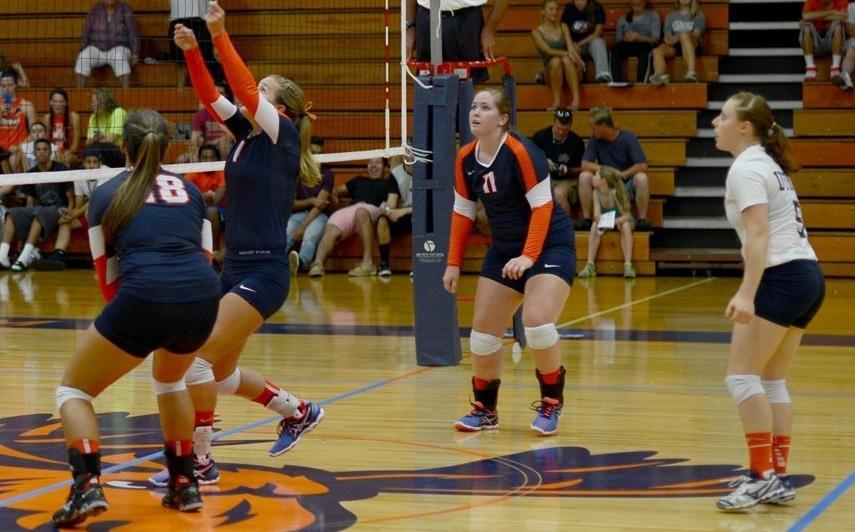 The Pioneers started the tournament on Friday taking on Oswego State where they were defeated three sets to none. Senior Laura Homer-Gunther tallied six kills. Homer-Gunther collected a hitting percentage of .545, keeping her atop the Empire 8 standings with a combined season hitting percentage of .486. Freshman Hannah Voss also led the Pioneers with seven kills.
Voss explained what goes through her head when she goes up for a kill.
"When I go up to hit I'm usually hoping the ball goes over and in," Voss said. "But getting a kill gets me really hyped and makes me always want to hit the ball harder."
UC hoped to bounce back in their next game against D'Youville and what transpired was a five set thriller. Both teams exchanged 25-22 decisions in the first two sets, before D'Youville took the third set 25-23. Utica dug down deep to rally in the fourth set to win 25-20 and force a deciding fifth set. D'youville jumped out to a 7-1 lead in the final set and never looked back as it went on to win the set 15-9 and take the match.
Coach Bird mentioned the changes she makes between games in a tournament in hopes of finding success.
"We often change the lineup dependent upon who are opponents are," Bird said. "If they have a huge outside hitter, I want to be sure our strongest blockers are out there to slow/shut her down."
On Saturday the Pioneers were back, breaking a school record, even though the Pioneers went 0-2 on the day. Senior Lora Allen broke the school record for career assists. She now has 1,559 assists.
They played two tough opponents in Sage College and SUNY Canton losing by a combined total of six sets to one. Voss combined for 20 kills on day two, along with Homer-Gunther tallying 13 kills on day two of the tournament as well.
Junior Brandi Blaszak was named to the All-Tournament team for everything she did on the weekend to keep her team in every game.
The Pioneers will stay home this weekend, as they host the Empire 8 Crossover Tournament. UC will take on Ithaca College and Houghton College.