Player Profile: Tom Woodburn
Corey Giacovelli
Staff Writer
Three steps back, two steps over, keep your head down and most importantly trust what you have been doing your whole life. That is what goes through the mind of senior kicker and punter, Tom Woodburn.
Woodburn grew up in West Islip, New York, where he also went to high school. Woodburn holds the Utica College records in extra point attempts, extra points made, and field goals made.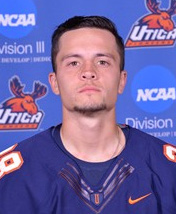 As he was growing up, Woodburn played multiple sports including basketball and soccer, but he did not get into playing football until his junior year of high school.
Woodburn's father is a football referee for high school games and occasionally talked to the kickers throughout the game. His baseball coach was also a coach on the football team who encouraged him to give it a shot; once Woodburn started playing, he fell in love with the game.
"The atmosphere, the team comradely, it was just different than any other sport I played in high school," he said. "I knew I wanted to go to college to play football for another four years to make up for the years I didn't play in high school."
It was a pretty easy decision for Woodburn to come to UC. Head Coach Blaise Faggiano made him feel at home and the players that escorted him around during his visit created the family atmosphere that Woodburn wanted at the school that he picked. The cybersecurity program at the college also made his decision easier because that is something he hopes to do upon graduation.
Faggiano is not only the head coach, but he is also Woodburn's special teams coach. The bond between those two has become close over the last year, since Woodburn is the only kicker on the roster.
For the last three years Woodburn has been in charge of field goals, extra points, and kickoffs for the Pioneers. After former Pioneer punter Dakota Peel left last year, Faggiano asked Woodburn if he could also do the punts for the team as well. Without hesitation he agreed.
"He's huge…the fact he has taken over the role of being punter along with kicker has been huge to this team," Faggiano said. "He is a senior leader who all of the players have a huge amount of respect for."
Homecoming in 2012 is where the best football memory lives for Woodburn. The Pioneers were playing Frostburg and it is where Woodburn got his confidence for the rest of his playing career.
"I wasn't really kicking well going into that game my freshman year but then it clicked," he said. "I kicked two field goals in that game and when you combine it with the extra points, I came away with the school record for most points in a game."
The Pioneers ended up winning that game 41-0 with Woodburn finishing with 11 total points on the afternoon.
This year Woodburn is back to work and is playing very well in his final year with the Pioneers. He has made all five of his field goal attempts this year, with his longest being 36 yards. He has made all of his extra point opportunities, along with pinning opponents back deep on kickoffs.
For his career, Woodburn has converted 16 of his 24 attempts with his career longest being 39 yards. However, Woodburn has a powerful leg and hits 50 yard field goals regularly in practice. With this being his last year Woodburn is very thankful for the many opportunities UC has given him in sports and academics.
"These past four years have been the best experience of my life," he said. " I never imagined having such great memories and bonds with my teammates. These guys will be my best friends for the rest of my life and I would not trade it for anything in the world."
Woodburn and the rest of the Pioneers return to action September 19 at 7 p.m. when they take on Morrisville State College.