Pioneers come home empty handed
James McClendon
Staff Writer
The Utica College Men's Soccer team comes back from its road trip empty handed, with losses to both Gordon College and Endicott College, in the North Shore Invitational Opener.
The Pioneers have started off the season with 0-3 record, which includes a loss in their season opener, on Tuesday, to Hobart College. The second half rally came up short as the Pioneers were only able to score one goal in a 2-1 defeat. Last season, the team started with a 2-0-1 record and took the 3rd seed in the Empire 8 Conference tournament.
On Friday, the Pioneers fell behind early as Gordon College netted two quick goals from senior Evan Crocker and freshman Ian Burkhart in the first 15 minutes of play. Utica senior captain Justin Schray answered with an unassisted goal of his own at the 20:44 marker. Gordon finished out the half with a goal scored by Andy Guthrie.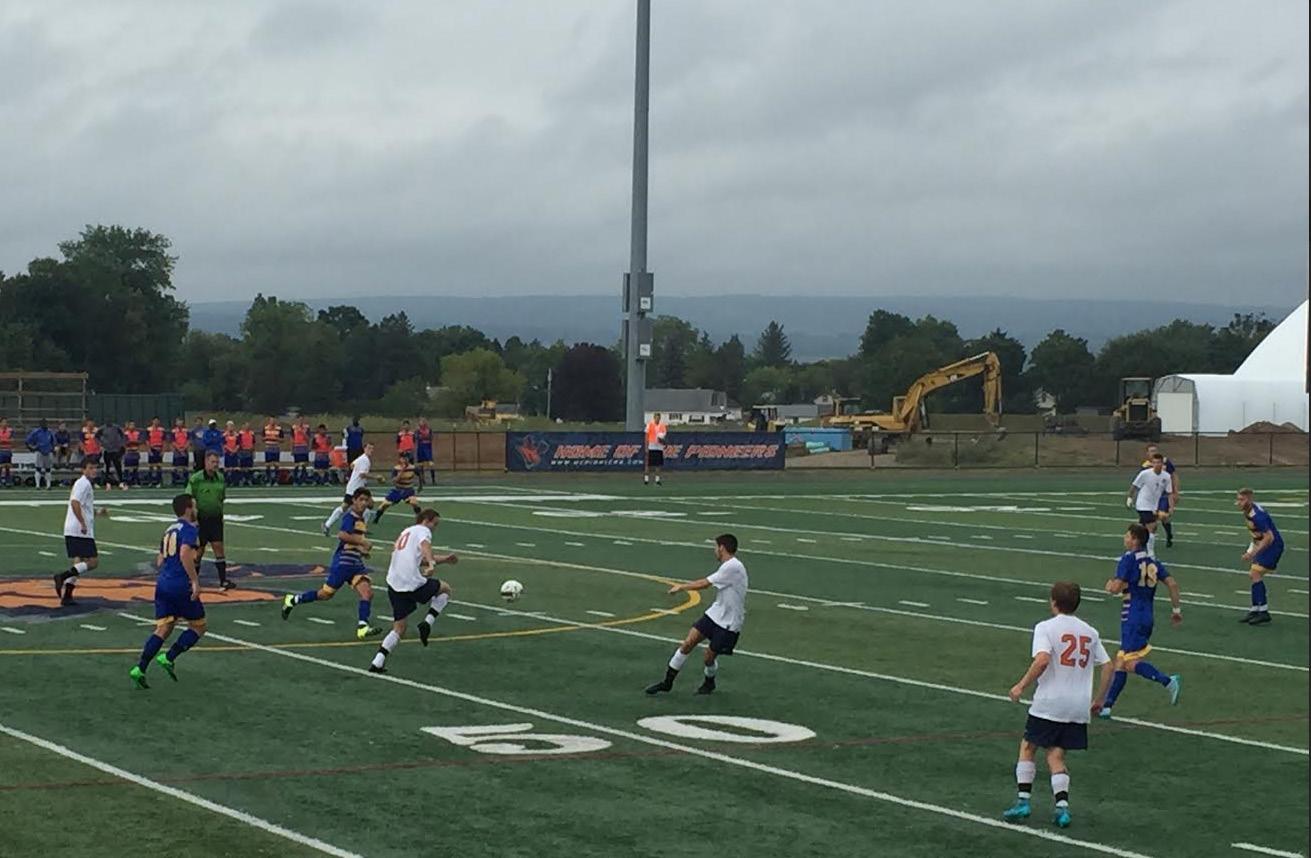 The defense picked up in the second half, with neither side being able to score a goal. Pioneer goalie Nick Hallett finished the game with five saves, however Gordon was able to maintain its 3-1 lead until the final horn.
In the second of a two game road trip, the Pioneers faced Endicott College, losing in a strong 3-1 effort. Endicott College, led by former UC head men's soccer coach Joe Calabrese.
The Pioneers came out of the gates strong with senior forward Shane Ruffing knocking in a breakaway goal in the 11th minute, which would turn out to be their only goal. Junior midfielder Matt Beljan and sophomore Bita Gazashvili provided the assist to Ruffing, who now has two goals on the season. The second half was then dominated by Endicott, who scored three goals on the Pioneers. Senior forward Diego Slobotzky, scored first with an unassisted goal in the 54th minute. Less than a minute later senior midfielder Shintaroh Itoh scored on a penalty kick goal to give Endicott the lead. Endicott capped off their second half run with a Diego Maillo header into the back right corner of the net. Besides the three goals, Pioneer goalie Hallet had a strong outing with six saves.
The Pioneers spirits are still high even after two tough losses
"The team's effort has been outstanding for the first three games against quality competition," assistant coach Alex Fisher said. "Although the results have not gone our way, the matches have helped us move forwards in our preparation for our tough conference schedule. We are looking forward to our home match this Wednesday against SUNY Poly at 5:00 pm, where we will be looking to continue to improve in all facets of the game while looking to get a more favorable result."
The Pioneers, hope to recover from their slow start. They return to action this weekend with a 1 p.m. match on Saturday at Oswego State University, and return to Charles A. Gaetano Stadium to host Wells College at 5 p.m. on Sunday