Life doesn't stop: Shane Archer Reed's artistic journey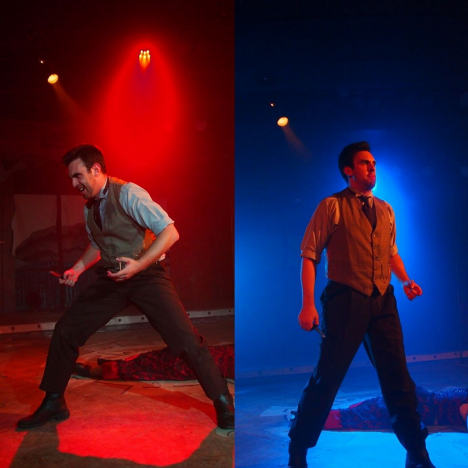 Central New York musical artist and theatrical performer Shane Archer Reed compared his experience in the music and theatre world to a snowball effect. The more new music and theatre he found, the more he wanted to uncover. Except unlike snow, this isn't something he wanted to shake off. 
"I have no idea if I can do this, but I'm going to try," he thought to himself when he decided to try out for a solo in his elementary school choir. The reaction to Reed's audition from his teacher was more than astonishing, and they encouraged him to keep singing. From then on, Reed's teachers continued to be a big influence on his journey as an artist. 
Middle school acted as the catalyst for his love story with musicals. "I just want to sing," he said to Victoria Buda, director of the upcoming school play. He sang in the junior version of Bugsy Malone, and received his first standing ovation at 13 years old. In the midst of falling in love with playing characters, Reed joined his first band as an 8th grader. 
It started out as a punk rock cover band, covering everything from Green Day to Black Sabbath. American Idiot was Reed's first album he listened to the whole way through. He was fascinated that they were able to create a rock opera, and he started to wonder what was going through their minds. Could he do something like that? 
Halfway through high school, a downtown cafe in Oneida became his place to explore these questions. Every Friday night, Reed and his friends gathered at La Vie Boheme to support and play for each other. They created an environment that helped shape all of them as artists by allowing them to find their sound. 
The moment everything clicked for Reed was when he found some of his grandfather's unfinished lyrics. He found the right words and a melody to put them to that would eventually become "I Doubt It," from his first album I Defy You, Stars. 
His first sources of inspiration for his music came from personal experiences. While writing he began to understand emotions he couldn't say out loud. He was struggling with voices internally and externally that said "You're doing something wrong." 
Reed combatted these thoughts with hope, saying, "You're going to get through this." Reed wanted to keep moving forward not just for himself but for his listeners. 
"Life doesn't stop," he said. 
His love for theatre didn't stop either. In 2017, he played William Barfée in The Players of Utica's production of The 25th Annual Putnam County Spelling Bee. The director of this production was Nick Abounder, former adjunct professor at Utica College. Abounder invited Reed to audition for the upcoming production of Jekyll and Hyde. UC theatre had recently opened its doors to the public. 
Reed found that the immense amount of talent from UC and the community was combined beautifully. Some of the best theatrical experiences he has ever been a part of took place at Utica College, and that was mostly due to the people he was able to connect with. 
"Utica College's theatre department is not divided between the people behind the scenes and the people on stage," he said. "Everyone works well together and they take opportunities to become everyone's friend." 
Reed continued to support the Utica College Theatre Department even when he was not performing. He went to see the productions, You're in Town, Arcadia and Ghost Stories at Yotsuya. People he cared about were involved in these productions and he knew they would come together to create something great.
Reed's ongoing curiosity and passion has been the vehicle between his first audition for a solo in his elementary school choir to his most recent single, "Moving Mountains (Dammit I'm Trying.)" Reed's artistic expression has paved the way for inspiration to travel between himself and others. 
Moving mountains and living through a snowball effect are treacherous tasks, and Reed has faced them head-on.