OP-ED: Things to do in Utica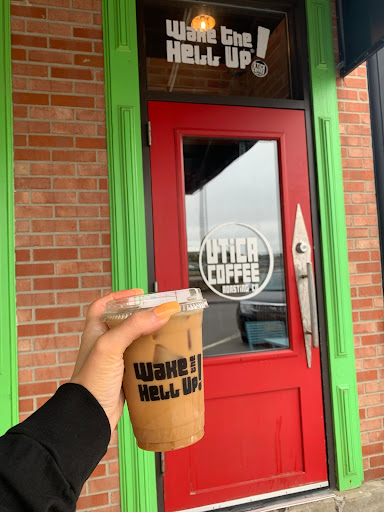 In a small city like Utica, it's common to wonder what there is to do. Utica is mostly known for coffee shops, good eats and the arts. If you're up for an adventure or willing to try something new, Utica is home to a variety of hot spots just for you to explore.
Coffee is essential for some to get through classes and long days. If you're looking for a hot coffee, iced latte or freshly baked muffin, Utica Coffee is the spot.
Located in the heart of downtown Utica, Utica Coffee has a wide variety of high-quality drinks and baked goods. In addition to having coffee, tea and lotus energy drinks, they also have scones and cinnamon buns to pair with your hot or cold beverages.
Just in time for Fall, their menu offers the "Apple of My Chai". This is a hot or iced drink with spiced chai blended with caramel syrup made with your choice of milk. If you need a mid-afternoon pick-me-up, you can also add a shot of espresso.
Another local option for coffee is Character Coffee
According to senior psychology major Angeline Viti, Character Coffee offers the highest quality coffee. They take a lot of pride in their quality and how their coffee is made. If you really care about coffee, this is the place to go.
One thing that makes Character Coffee stand out is the fact that all of its syrups are made in-house.
They offer unique flavors such as Pistachio Caramel, Gingerbread and Italian Christmas cookies. She also adds that they offer cereal milk to add to your drink. They soak the cereal of your choice in milk before adding it. They also offer freshly baked donuts daily.
Character Coffee is open to visitors at 171 Genesee St. they are open every day of the week. Their hours are 7 a.m. to 4 p.m. during the week and 9 a.m. to 2 p.m. on weekends. Viti suggests trying her personal favorite, the Honey Lavender Iced Latte with oat milk.
If you're looking for comfort food, right next door to Utica Coffee is The Compound. The Compound is a fun and quirky, locally owned mom-and-pop shop. It's decorated with intriguing neon signs, disco balls and paintings. The staff is friendly and welcoming to all that walk in.
They are mostly known for their unique grilled cheese sandwiches. They have a variety of options. A must-try is the Vegan Grilled Cheese. It's prepared with vegan cheese, avocado, tomato, pickled red onion, mixed greens, and chipotle pecan pesto. They also offer soups, salads, and burgers. The Compound is the perfect hangout spot to sit and eat, relax, or catch up on some assignments.
There is always an opportunity to see live theater or be a part of it here in Utica too. The Stanley Theater is a baroque-style theater in Utica. It has been in Utica for 94 years. Originally it was a movie cinema but has evolved throughout the years.
This month, the popular Broadway musical "The Book of Mormon" will be in town. The show will run from Saturday, Sept. 23 until Sunday, Sept. 24. Showtime is at 7:30 p.m. Theatergoers can also look forward to seeing "Chicago", "Tootsie" and "Buddy – The Buddy Holiday Story" within the next few months.
For performers, there are the Players of Utica. This is a black box theater open to the community. They have shown all year round, and auditions are open to anyone. Their upcoming show is "Kodachrome." It is a story of a small town explained through the lens of a photographer. The audience is able to see the audience's personal lives in a different way. "Kodachrome" performs Oct. 21-23 and Oct. 28-30.
For more information, you can visit www.thestanley.org or call the Broadway Theater League at 315-624-9444 to update on upcoming events.