[email protected] series continues during COVID semester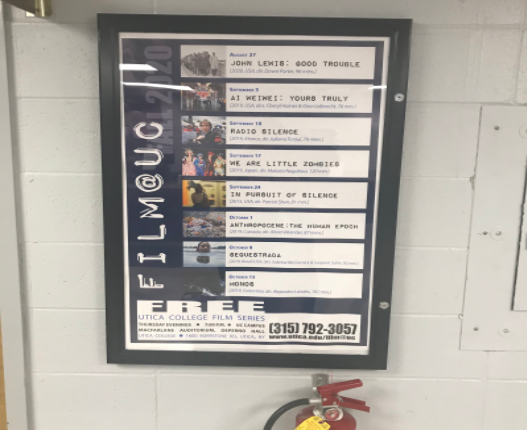 Charles Buckley, Staff Writer
Even with COVID-19 being an obstacle, some cultural offerings were brought back with proper precautions. This semester [email protected] will continue each week as one of the college's few entertainment events this semester.
[email protected] happens every Thursday through Oct. 15 and is open to all students, faculty and staff. As a precautionary measure, members of the general public will not be permitted this semester. All showings start at 7 p.m. in Macfarlane Auditorium. Admission is free. 
Every semester Associate Professor of Communication and [email protected] Director Jeff Miller selects a diverse line-up of movies that spotlight a variety of issues and topics for viewers.
This week, the 2019 film Radio Silence is scheduled for a Sept. 10. It is about Mexican journalist, Carmen Aristegui, who was fired from her job at a local radio station and is now speaking out to raise awareness and fight against the use of misinformation.
"I feel everyone should be a part of the film series because each film presents a different topic that many people can learn about," said Kat Hawley, a sophomore and GSA president. 
On Aug. 27, John Lewis: Good Trouble, a film that talks about the late John Lewis and his efforts to help during the 1960's Civil Rights Movement. 
"I really liked the movie because we had a discussion about John Lewis in one of my classes and it helped me to learn more about him," Hawley said.
So far a total of only two movies have been shown: One being the film about Lewis while another named Ai WeiWei: Yours Truly was shown on Sept. 3. That movie was based on a man named Ai Weiwei who was under house arrest in Beijing and managed to change the infamous Alcatraz into a place of socially engaged art. 
"Honestly, I chose to continue the film series during this unusual semester for a pretty simple reason," Miller said. I simply wanted to maintain something familiar amid all of the changes that are the result of the pandemic." 
Miller's series has been running for over 20 years; a tradition he intends to keep alive at Utica College.
"The very best part about running the campus film series for the past 20-plus years are those moments when students come up after the fim, brimming with enthusiasm, and say things like, 'I would have never gone to watch a movie from Tibet, but that was amazing,'" he said.
Click here for more information, dates and times on the film series this semester.