Marijean Levering: A loss of a family member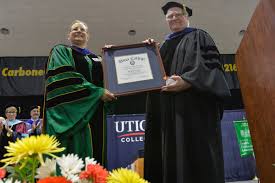 Maria Longeretta, Staff Writer
The UC community suffered a loss over summer after the death of beloved Theater Professor Marijean Levering. Levering died of cancer on July 27 at age 43 in Detroit, her hometown.
Levering was an asset to Utica College's theater program and maintained close relationships with all who came in contact with her. She and set designer Laura Salvaggio formed a close friendship and a built a team of students who joined the theater program, which they later described as a family.
"I feel like I lost a sister," Salvaggio said. "She was my partner in making Utica College theater fun and pretty amazing. We've been together for so long and this family feels like it lost one of our rocks but we will stay together. However, I know UC will miss her."
Salvaggio will temporarily fill Levering's position this year.
Provost and Senior Vice President for Academic Affairs John Johnsen knew Levering well from his time as dean for the School of Arts and Sciences and characterized her as "always a voice of optimism and careful thought." He enjoyed her "ideas and creativity."
Levering was born on Feb. 20, 1974 in Detroit. She was valedictorian of the Sacred Heart Academy, then graduated Magna Cum Laude from Loyola University, earned her master's degree at Michigan State and later her PhD at Wayne State University.
Soon after she joined UC and became Chair of the Performing Fine Arts.
Most students in the Utica College Performing Arts program considered Levering a mother figure. It was known that she had a drawer filled with things that students needed to make it through the day. Things like allergy medicine, headache or pain relievers.
Levering did everything she could to be a part of any activities involving performing arts, senior Sam Ferretti said/  
"Marijean must have teleported everywhere to be apart of everything involving theater or performing arts," he said.